5th Avenue Has Long History Of Drug Crimes
5th Avenue North in Myrtle Beach, S.C. has a long and documented history of drug, prostitution and crime issues.
A local newspaper article concerning the arrest of a drug ring at Bayview Resort went viral this week. Locals were quick to defend the arrest as an isolated incident. Myrle Beach police department records, however, indicate drug arrests along that street have been common for years
On December 6th of last year, Myrtle Beach's Sun News Reported: https://www.myrtlebeachonline.com/news/local/crime/article222672315.html
The article concerns a home located at 407 5th Ave. North. Joe Rideoutte Jr. is the owner of the home called the "Yellow House."
The Sun News Article Reads: In 2016, the state filed a nuisance action against the residence. Solicitor Jimmy Richardson said at that time they believed it was the first nuisance request against a home in the Myrtle Beach area.
The nuisance label and closure requests are typically used for problematic businesses in the Grand Strand. As a result of the 2016 case, Rideoutte could resume his business, but certain conditions must be met.
The state, in the filing, says Rideoutte has not followed those conditions since reopening earlier this year. The problems include:
Myrtle Beach police and medical personnel have responded five times since May for drug overdoses. Nobody has died because emergency crews administered Narcan to counteract the drugs.
Officers have responded to "multiple calls" for drug use and dealing at the house since the end of March. The calls ranged from people claiming to buy drugs to a child being taken from the home. That child later tested positive for cocaine.
Police also had multiple reports of fights and assaults at the Yellow House, such as tenants threatening people with a razor and a hammer to someone hitting another with a bat.
A nearby business also described Yellow House tenants leaving drug trash in a parking lot, seeing prostitution and had assault victims visit the business pleading for help.
In total, Myrtle Beach police have had 213 calls for service to the residence in 2018, according to department data.
The filing calls the activity at the Yellow House "offensive to public decency, morals, peace and health and constitutes a public nuisance."
Officials say they gave written notice of being a nuisance home to Rideoutte on Oct. 19.

On August 17, 2016 the City of Myrtle Beach held a packed town hall meeting concerning the city's Heroin Epidemic. Afterwards, we wrote the following article on the Blossum Inn located at 5th North and Chester Street. https://myrtlebeachsc.com/myrtle-beach-heroin-epidemic/
While Myrtle Beach City Manager John Pedersen defended the Blossom Inn, MBPD's police records also show a former, checkered pattern of previous drug related issues there as well. The Blossom Inn sits adjacent to the "Yellow House" on 5th Avenue North. We found this Facebook page, put up by someone concerning the Blossom Inn. https://www.facebook.com/pages/Blossom-Inn/116382318386857
A quick glimpse of the page clearly examples what the property is about.
A tenant who recently moved out of the town homes directly across from the "Yellow House" and Blossom Inn, told MyrtleBeachSC news she left the area after her block of town homes were entirely purchased by Downtown Redevelopment Board Member Noam Pyade.
She told us the countless drug sales that once occurred across the street moved right into her complex after the property was purchased by Pyade.
The DRC and the city contend "non family friendly" crime issues are related to CBD oil sales on Ocean Boulevard. City Council and Mayor Bethune banned the sale of CBD oils and other related products on Ocean Boulevard in 2018, saying they were foundational in Myrtle Beach's "non family friendly" image.
The city's own police records, however, show a long history of drug crimes along the 5th Avenue North street corridor. As we reported in 2016, City Manager John Pedersen was quick to coordinate a defensive response through a local "Chamber of Commerce Tourist Tax Funded" news channel. Pedersen gave the property a "clean bill of health". Our follow up after the city's response can be seen here: https://myrtlebeachsc.com/wbtw-cbs-covers-heroin-story/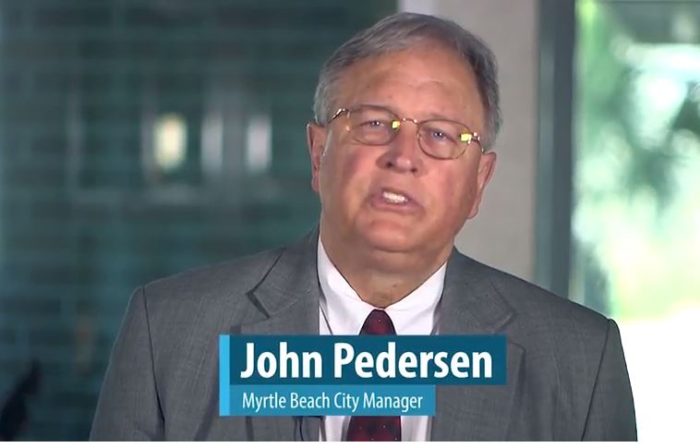 Former residents, just across the street, said Pedersen's report simply was not accurate. However, tenants occupying the Blossom Inn said the drug issues were no longer present. We asked those tenants and the owner of the Blossom Inn to go on camera and they refused.
One former, local hotel owner, Karon Mitchell did go on camera with us, also reporting that the Blossom Inn was a drug property. She refuted Pedersen's claims on camera as well.
Comments
comments