Chinese Ponzi Scheme Embarrasses Mayor, Chamber President And Hurts Myrtle Beach's Image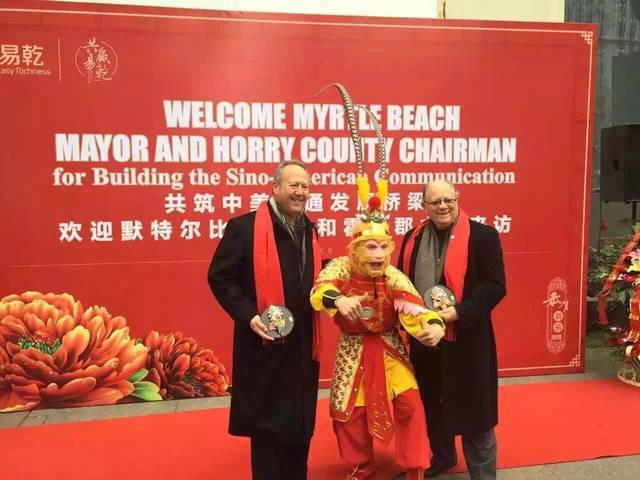 Myrtle Beach Investment Questioned
The State Newspaper of S.C. reported yesterday that Chinese investors pursued by Myrtle Beach Mayor John Rhodes and Myrtle Beach Chamber of Commerce President Brad Dean are being investigated as a part of a Chinese ponzi scheme.  Dean and Rhodes sought out the Chinese group on behalf of Burrough &  Chapin Corporation and Matthew Brittain of Brittain Resort Hotels among others.  The Chinese government is now investigating Yiqian Funding and has raided two of the companies offices in China.
Mayor Rhodes and Brad Dean made trips to China on behalf of these two former local golf course giants in a successful attempt at selling 22 golf course operations to Founders Group International,  whose parent company is Yiqian Funding of China.
The State Newspaper reports that the fraudulent business practices of Yiqian Funding involve U.S. golf course purchases and include a Ponzi Scheme.  Yiqian is also being investigated for creating  shell companies and internet fraud. Two Yiqian Funding offices in China have been raided and some company assets have been frozen.
When Myrtle Beach Mayor John Rhodes was questioned about the shady investments he brokered, he stated, "I need to find out more about what's going on," said Rhodes, who on Wednesday acted is if he was unaware of the reports of Yiqian in China.
As Rhodes and County Councilman Mark Lazarus just last month brokered an additional $100 million in Chinese investments for a Chinese Cultural center,  Rhodes added, "It would be a black eye on what we're looking at down the road and how people look at a Chinese investor and where all this money is coming from."
Rhodes did not endorse the integrity of his and Chamber of Commerce President Brad Dean's past $100 million dealings with the Chinese group,  Yiqian Funding.  However, concerning the $100 million dollar deal the Mayor is currently brokering,  he added,   "The people I've been dealing with [who have committed to investing in a future Chinese cultural village] are bona fide businesses."
Corporate Bosses,  (who largely run the city and the Chamber of Commerce) Burroughs & Chapin and  Brittain Resort Hotels  were quiet when the news of the Ponzi scheme broke.  The two corporate giants  merged golf course operations before the deal was structured forming a new company called National Golf.  The deal structured by Rhodes and Dean actually had Yiqian Funding buying the courses from the new company National Golf.   National Golf then payed B&C and Matthew Brittain's golf course group.   This structure allowed the two corporate giants plausible deniability on any suspicious activities that could have occurred.   How the Mayor and Myrtle Beach Chamber C.E.O. Dean could not have found this deal suspicious from the outset is curious?
The backdrop of these revelations happen as the Mayor, City Manager, and City Council are at an annual budget workshop retreat where the city is discussing a downtown mid tax that the two corporate giants desire so as to push small downtown merchants out of business and allow the Chinese to invest another $500 million in a downtown take over of the area formerly known as the Myrtle Beach Pavilion area.
MyrtleBeachSC.com reported just this week,  how county officials worked to close the popular attraction SkyDive Myrtle Beach,  during the very same time period when county council chairman Mark Lazarus and Mayor Rhodes took a 16 day trip to China seeking $100 million in Chinese investments for a new Chinese Cultural Village attraction.

Downtown merchants were not surprised when we informed them of the suspicious nature of these recent investments.  One local leader stated that these elected officials are all sleeping with dogs and each had fleas.
Just last week Mayor Rhodes demanded that a former leader of the Oceanfront Merchants Association apologize for stating that the downtown area had become riddled with crime and needed improvements during that leader's run for city council last Fall.
The Mayor said he believed the Oceanfront Merchant's city council campaign statements embarrassed and shamed the city.
South Carolina is currently the 3rd most politically corrupt state in America.  Myrtle Beach is rated the most politically corrupt city in S.C.
Related articles across the web
Comments
comments