City Discusses Oceanfront Beach Bacteria Pollution

Janet Curry, Deputy Director Of City Of Myrtle Beach Public Works, made a presentation to the Beach Advisory Committee concerning the city's storm-water concerns and the resulting beach bacteria spikes that occur after rains at eight infected areas on the oceanfront.
While Myrtle Beach businessman, Steve Taylor, who heads the Beach Advisory, stated accurately that the numbers are safe 98.5 percent of the time, the numbers do spike as much as from 44 to 86 times above safe after some rains.
WHY THE SPIKES?
Beach bacteria spikes are a storm-water problem. Building retention ponds that allow for storm-water evaporation instead of fast water run-off to the ocean is actually the best solution. Oceanfront outfalls are another. However, in downtown areas with high development density, like the below, making room for a large pond is practically impossible and very expensive.
HOW DID WE GET HERE?
The City Of Myrtle Beach didn't suddenly wake up with storm-water problems. Myrtle Beach was notified by DHEC that the problem was a concern in the 1990's.  Misplaced priorities by previous city councils shoulder the burden for how we got behind the storm-water curve.  City Manager, John Pedersen, rightly states that we have spent $70 million or more on the problem over the past 20 years.  What he does not tell those listening is that we have given the Myrtle Beach Area Chamber of Commerce $200 million over the past decade.  Had we invested those dollars in storm-water runoff, we could have completely solved this problem.
CITY BACKS AWAY FROM COMMITTING TO ITS OWN PLAN
In an email response from Mrs. Curry to MyrtleBeachSC.com, the city backed away from an assurance that funding for the storm-water plan will actually happen.  It's just a plan.  Her Email Response is as below:
Good afternoon,
As requested, I've attached electronic copies of the presentation delivered during both our City Council Workshop and the Beach Advisory Committee meeting in recent days.  Please keep in mind that this is a proposed draft plan that our City Council is considering among many other needs/projects within our community and is subject to change.
"Why does MB test for beach bacteria on Mondays and Tuesdays instead of Fridays and Saturdays when more people are in the water?
SC Department of Health and Environmental Control (SCDHEC) samples on Tuesday along our beachfront during the beach season – May 1st to September 30th.  The City of Myrtle Beach contracts with Coastal Carolina University (CCU) to perform beach water quality monitoring year-round along our beachfront.  In an effort to manage resources, our sampling is performedon Monday to allow SCDHEC's sampling effort to serve as a follow-up sample, should one be required.  Sampling during the week allows for SCDHEC to schedule additional follow-up samples, should they be needed, in a cost-effective manner.
Is it not possible to post the water quality results electronically directly at the swashes?  (infected areas)
The water quality sampling results are electronically displayed on the SC Beach Access Guide, https://gis.dhec.sc.gov/beachaccess/.  SCDHEC posts updated sampling results in a timely manner, normally within 15 minutes of being made aware of the test results.
Thank you.
~ Janet
EDITOR'S NOTE:  In November 2017, residents voted in newly elected city council members and a new Mayor.  MyrtleBeachSC.com is already witnessing greater accountability and transparency from these new no-nonsense leaders.
The City's Plan can be seen below: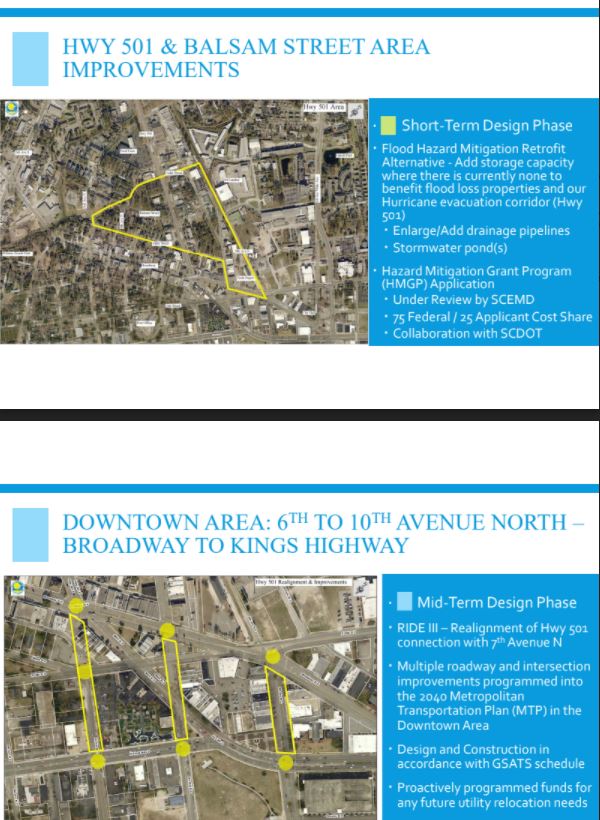 Comments
comments