City Ordinance Allows Ocean Pollution Exemption
Ordinance Exempts B&C Ocean Pollution
First reading by Myrtle Beach City Council on Tuesday, September 13th will give B&C ocean pollution exemptions on a city mandated requirement for beach storm water run off.   The property located on Highway 17 north between 23rd Avenue North and 30th Avenue North is owned by  B&C (Burroughs and Chapin).  The property was formerly known as Myrtle Square Mall.
Currently this area drains into the Myrtle Beach convention center's filtration system.  During and after rains in the future,  this property will drain onto the ocean at 24th Ave North.   This drainage area and the ocean around it has rated not safe for swimming multiple times during this past May, June, July and August 2016.
On May 24, 2016, the 24th avenue area posted a bacteria rating of 557 by DHEC.   The rating was 5 times higher than allowed for safe swimming.   In June 2016 the 24th Avenue area rated 3 times unsafe for swimming.  This drainage location is just 3 blocks north of the popular Breakers Resort Hotel.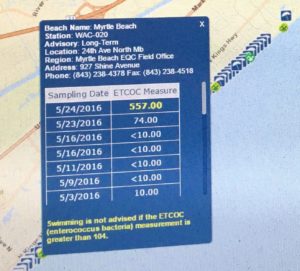 B&C Ocean Pollution Exemptions
Area Five Times Unsafe For Swimming on May 24th
An exact copy of the reading is as follows:
The ordinance must pass a second reading and a public hearing to become law.
B&C is the largest landowner in the city of Myrtle Beach.  Mayor Rhodes previously worked with B&C's affiliate National Golf to broker a sale of B&C's golf course holdings to the Chinese in the past few years.  Courses included in  that sale were Pine Lakes Country Club,  Myrtlewood Pinehills and Myrtlewood Plantation.
One local S.C. conservation group believes this move is not in step with providing healthy beaches to the 15 million tourists that visit Myrtle Beach annually.
Related articles across the web
Comments
comments