Former Rep who wants Judgeship continues campaign spending concerns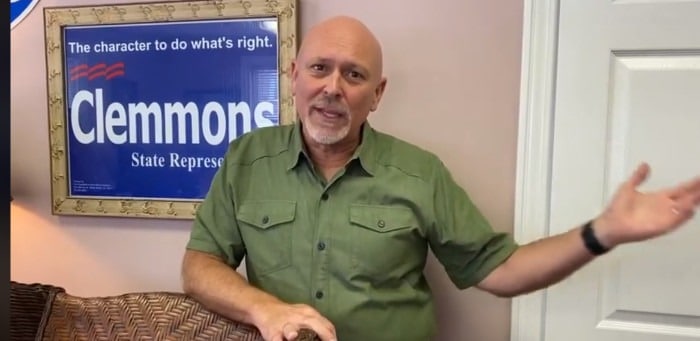 Former House of Representatives Alan Clemmons resigned abruptly Jul 17, 2020 stating he wished to spend more time with his family. He also swore, "under oath", he planned to spend more time on his personal business.
As Paul Gable of the Grand Strand Daily reports today: It is important to note here that Clemmons affirmed to the election commission, under penalty of perjury, that his dropping out as the nominated candidate was for "non-political reasons", a requirement for the party to conduct a special election to nominate a replacement candidate for the general election.
The special election will costs taxpayers $40,000.00
Over the past few years, Clemmons continually placed applications for various government jobs including applying for Myrtle Beach City Attorney, Horry County County Manager, and 15th Circuit public defender. He was unsuccessful in securing any of these high paying, government jobs.
During his recent campaign for re-election, Clemmons maintained his commitment to the residents of District 107. Clemmons won that campaign running against local Myrtle Beach Attorney Case Brittain.
However, for a representative committed to seeing his term to conclusion, Clemmons' last minute campaign expenditures are curious at best.
Bleeding the campaign expense account? A Clemmons habit
Clemmons' March through June disclosures show a total of $3,500 paid to former Myrtle Beach City Councilman Randal Wallace for consulting.
Wallace was encouraged by local merchants to run in the upcoming special election, but oddly decided not to run at the last minute.
Curious Campaign Spending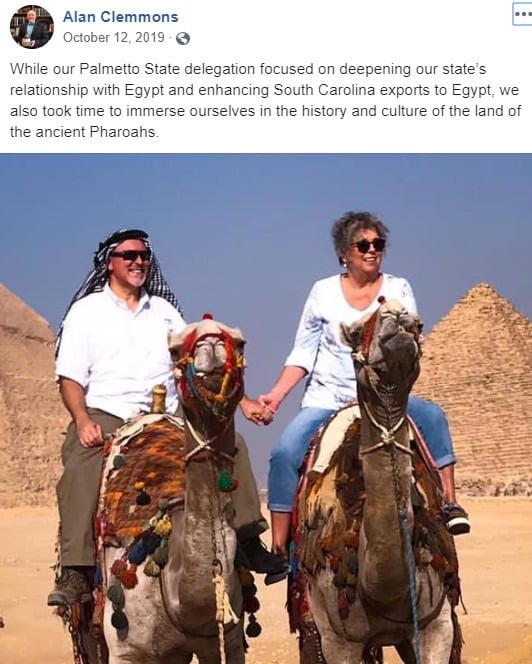 Controversial campaign spending issues have been an ongoing concern for Clemmons. As the Nerve reported in 2014:
At the beginning of every year, the Horry County Republican and House Rules Committee chairman says he orders a batch of men's neck ties and women's scarves to present to House members and staff, as well as to "various dignitaries throughout the year."
From January 2008 through January of this year, Clemmons paid a total of $29,297 from his campaign account to the Milano Neckware Fashion Co. in Taipei, Taiwan, for the clothing, The Nerve found in a review of his quarterly campaign-expense reports. He placed at least eight orders during the period, listing individual expense entries ranging from $2,295 to $4,835.
Other Questionable Expenses
Besides the tie and scarf purchases, The Nerve's review of Clemmons' campaign reports filed online with the State Ethics Commission found other questionable expenditures, including:
More than $25,000 in reimbursements to himself from his campaign account from July 2009 through last June, including a payment of $11,500 in October 2012 for unspecified "legislative event services." Clemmons said the $11,500 covered the production costs of a pro-Israel rally at the State House in August 2011, when the Legislature was not in session. Of the total reimbursements, a collective $9,000 was listed in three separate 2011 entries as "loan payment."
More than $28,000 in "legislative travel" or "legislative conference" expenses, or reimbursements to himself, for trips from July 2009 through last June to various out-of-state destinations, including Washington, D.C., Chicago, Dallas, Tampa, Salt Lake City, Las Vegas and Israel, though the purposes of the trips weren't specified in his campaign reports. The Nerve last week reported about a campaign-financed trip to Israel earlier this month by a dozen state lawmakers, including Clemmons, who led the group.
More than $27,000 paid from his campaign account between April 2012 and last April to state Rep. Heather Ammons Crawford, R-Horry, for unspecified "campaign services." Crawford was elected in 2012 to fill the seat of Thad Viers, who resigned in March 2012 while facing a harassment charge involving his ex-girlfriend. The Nerve's review found that Clemmons has paid Crawford a total of more than $142,000 since April 2008 mainly for "campaign services" or "contract services" or "reimbursement."
Clemmons endorses Case Brittain. Mark Lazarus, Brenda Bethune, Heather Ammons Crawford, Randal Wallace, Rep. Russell Fry, MBACC are also among others backing Brittain
Seeking Master in Equity
As Fitsnews reported July 21, 2020, Clemmons is currently seeking the Horry County Master in Equity job. The position pays $180,000 annually. Should he work four years at that position, the 60 year old Clemmons could retire with his benifits set at that retirement amount. Clemmons is required to remain 1 year out of public office to be able to apply for this post.
The local delegation, including Senator Luke Rankin, Russell Fry, and Heather Ammons Crawford would be the key politicians guaranteeing this position for Clemmons.
Most of the vote recommendation would be sponsored by Luke Rankin. Rankin carries the deciding recommendation here. Clemmons was highly active in Rankin's re-election run-off. At a Domestic Violence propaganda fest attacking Rankin's opponent, Clemmons can be heard off camera saying, "Hold up the signs ladies." (Referring to signs denouncing Rankin's opponent.)
Writes Fitsnews: According to our sources, Clemmons has reportedly reached an agreement with the Horry county legislative delegation to receive an appointment as master-in-equity for the coastal county.
This position has been held since April 1, 2009 by Cynthia Graham Howe, who is reportedly ready to step down when her term ends in July 2021.
As our readers are well aware, Clemmons has been trying (unsuccessfully) for months to land a local government gig … although it is not immediately clear what is motivating his efforts.
One of our sources on the coast speculated Clemmons was eying the $180,000 annual taxpayer-funded salary received by the master-in-equity – which would "increase his retirement from state government accordingly."
Comments
comments