John Pedersen, MB City Manager, Calls Group Cyber Terrorists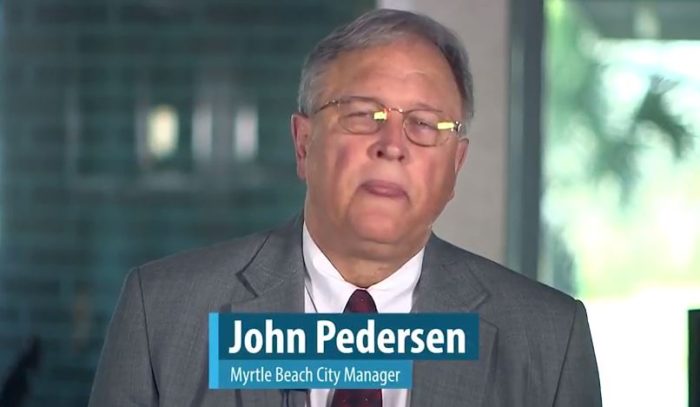 It is remarkable that an entire leadership team from the city of Myrtle Beach would choose to re-write history this way.
Myrtle Beach City Manager, John Pedersen, continued a global narrative of ongoing, misleading information put out by leaders in the Myrtle Beach community.
Arriving in Puerto Rico last week, former Myrtle Beach Area Chamber C.E.O., Brad Dean, stated,  "These allegations of corruption, fraud, and illegal political contributions are untrue. I believe, now you are going to have to help me, because  I haven't actually seen this, but I believe they come from MyrtleBeachSC.com."
Mr. Dean's statements, associating MyrtleBeachSC.com with those articles, were untrue.  It would be impossible for Mr. Dean to forget the drama that played out in 2009 between him, his organization, and the Sun News.  However, Mr. Dean did re-write the history of those events putting our company's name, and my own personal name forward as the author of those articles concerning his group's political contributions.  Mind you, later, the Myrtle Beach Area Chamber's lobbyist sued the Sun News over those series of articles.  Still Mr. Dean remembered the facts differently when speaking to the press in Puerto Rico.
Mr. Pedersen, globally continued this same narrative. Said Pedersen,"I learned yesterday that a small group of cyber terrorists is attempting to smear Brad's name in Puerto Rico. This is beyond deplorable. This group has been attempting to drag Brad, the entire chamber and the city of Myrtle Beach through the mud for several years now."
While Mr. Pedersen was unspecific about who this group was,  Mr. Dean's remarks called our news site and me out by name. This can be heard at the 16 minute mark in the video below.
One local former politician and the former mayor's wife,  then chimed in as well.
While we are currently seeking legal action against the City Manager and the City of Myrtle Beach in regards to their refusal to turn over FOIA concerning 8 years of Myrtle Beach Area Chamber of Commerce web data history, we encouraged Mr. Dean in his pursuit of his new venture.  The unfounded claims above from Mr. Pedersen, Mr. Wallace and Mrs. Springs are simply not true.  We challenge any one of them to come forward with evidence that David Hucks or MyrtleBeachSC.com reached out to Puerto Rico before Mr. Dean's comments were made in the video above.
We later did respond to Oscar J. Serrano, Publishing Editor of  NotiCel.com, after he reached out to us wanting more information in regards to the statements Dean made in Puerto Rico.  We then connected Mrs. Springs and Mr. Wallace with Mr. Serrano so Wallace and Springs could directly learn the truth themselves.
Mis-information abounds.  Anyone who lived in Myrtle Beach in 2009 knows fully well that the Sun News wrote those front page and highly read articles.  Mr. Wallace was a central part of this story mentioned by name.  How does he now support the statements Dean made?  What knowledge does he or Pedersen have that MyrtleBeachSC.com reached out to Puerto Rico to smear Mr. Dean?  Is the Sun News among the group of cyber terrorists Mr. Pedersen speaks of above?  Mr. Pedersen was assistant city manager in 2009.  Many of the city council members, in office at that time,  were personally named in those articles as taking $24,000 in sequentially numbered cashiers checks handed out by Mr. Dean.  Those council members were Mr. Pedersen's bosses.  Did he not read those articles?
For our Readers,  we provide a copy of just one of those articles published by the Sun News here:  It is remarkable that an entire leadership team from the city of Myrtle Beach would choose to re-write history this way.
Campaign Staffers Say Dean Brought In Disputed Cash
EDITOR'S NOTE – TO OUR READERS:  For reasons unknown, the State Newspaper (Owned By McClatchy) completely took this article down today (March 19, 2018) at 6:19 p.m.   The article originally ran on the Sun News, (a McClatchy Paper), but was picked up and continued to run on The State until today.
Apologies to our readers.
Comments
comments