Propublica compiled the tax numbers on the Myrtle Beach Area Chamber of Commerce through the year 2020. Myrtle Beach resident Ann Dunham was kind enough to provide us with the below data.
The Myrtle Beach Area Chamber of Commerce (MBACC) was tax funded $51 million annually in both 2019, as well as, 2020.
This funding largely comes from a 1% City of Myrtle Beach tax called the Tourism Development Fee (TDF). Much of this free tax funding is then sold to local hotels and merchants and converted into private MBACC dollars.
In truth, the City of Myrtle Beach and MBACC are in a private/public partnership where tax dollars provided to MBACC are converted into the chamber's private revenue operating accounts.
Numbers provided by the Association of Chamber of Commerce Executives (ACCE) show that only the U.S. Chamber of Commerce, which earned $155,880,178 in 2019, collects more in government funding than MBACC.
The latest numbers available to MyrtleBeachSC News were from 2016. We have been informed by multiple chamber organizations that the numbers have changed little since 2016 in towns like Florence, Dillon, Mullins, Marion and the like, however.
HERE IS HOW THE NUMBERS BREAK OUT FROM ACCE's SURVEY
RAKING IN MILLIONS, BUT A BRAND PROBLEM
As WMBF news reports, in an effort to do something about homeless people sleeping on park benches, the City of Myrtle Beach is choosing to remove all benches along the Myrtle Beach Boardwalk.
As a result, the homeless are choosing to rest and sleep in areas like public restrooms. The picture below was taken right across from the sky wheel on Ocean Boulevard in the downtown tourist district.
It has been widely circulated on social media.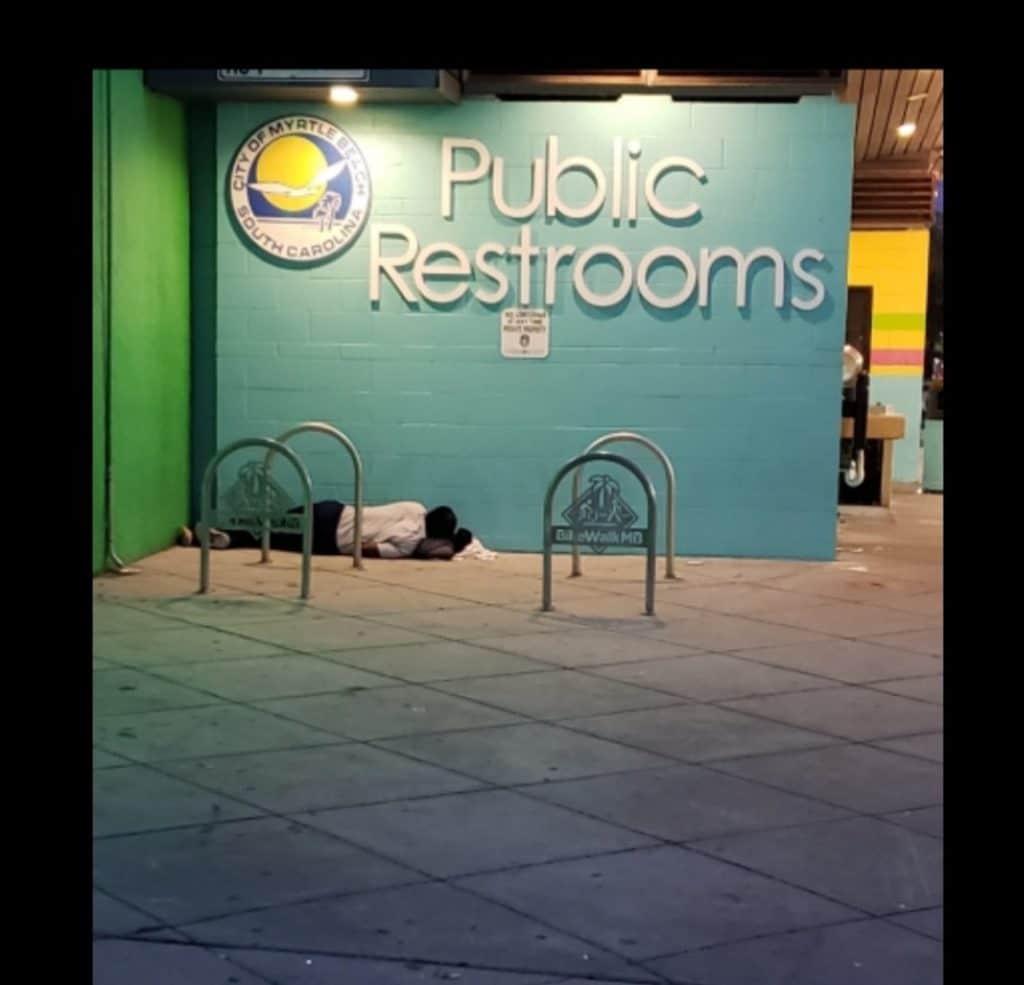 While the Myrtle Beach Area Chamber of Commerce continues to be a powerhouse in all things Horry County politics, much of the advertising tax subsidy drives tourists to the more preferred towns of Surfside Beach, North Myrtle Beach, Garden City Beach and Pawleys Island.
No TDF taxation monies come from the cities of Surfside Beach, North Myrtle Beach, (unincorporated)Garden City Beach nor Pawleys Island.
While well intended, the taxation effort amounts to taxing Ford Motor Company so that more people can drive Chevys.
Such are the unintended consequences of penny taxes and private-public government partnerships.
The City of Myrtle Beach has no legal way to hold MBACC accountable. However, it is clear that the City of Myrtle Beach has no desire to hold MBACC accountable.
Every MBACC favored political candidate, except Mark Lazarus and Tom Rice, won in the June 2022 primary elections.
Comments
comments