Every city has an era and a place that defines it best.   Orlando has Walt Disney, Disneyworld and its 1970's beginnings.  New York has The Rockefellers, Roosevelts, J.P. Morgan, Central Park, Manhattan and the early 1900's.  Asheville, NC has the Vanderbilts, F. Scott Fitzgeral, the Biltmore, the Grove Park Inn and the roaring 20's.
Myrtle Beach is best remembered for the Myrtle Beach Pavilion, owned by Burroughs and Chapin and the era that ran from the late 1950's through the early 1980's.  While the roots of other towns are diverse and run deep,  Myrtle Beach's roots are quite shallow and are singularly defined by a very small group of inter-connected people.  The 1950's certainly was a different America, as it was also definitely a different Myrtle Beach.
Just this past May,  as the golf courses owned by the Myrtle Beach National Company and Burroughs and Chapin were acquired by investors connected to Chinese based, Yiqian Funding,  Myrtle Beach turned a corner into what will be a new era defined by high city government control over smaller business concerns and a higher level of partnership with two key Myrtle Beach corporations.  This era will be highlighted by Chinese Nationals owning many of the hard assets of the greater community and financing new development along the Ocean Boulevard area.
AMERICAN PORTS, HIGHWAYS,  AND BUSINESSES "FOR SALE"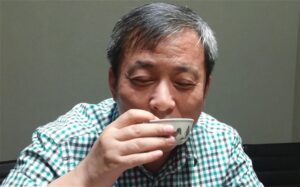 Liu Yiqian is a resident of Shanghai, China. Liu is a Chinese businessman who built his personal fortune by investing in stock trading, real estate, and pharmaceuticals.  He is chairman of Sunline Group, a Shanghai-based investment company.  According to Forbes, as of July 23, 2015, Liu has a net worth of USD$1.37 billion. He is ranked as the 163rd wealthiest individual in China and 1,533rd wealthiest in the world.
In a report for Uexpress.com, Cokie Roberts laid out the Yiqian associated investment in Myrtle Beach.  She stated, "Chinese interest in this area is no accident. Myrtle Beach Mayor John Rhodes has made five trips to that country promoting his city, and local business owners have financed digital billboards and videos aimed at luring Chinese money…."
This graph provided by the Washington Post,  shows the states where China has largely invested its money. States shaded green and dark green are areas that have the largest share of Chinese ownership.
As you can see,  Myrtle Beach is shaded in green.
According to the L.A. times, other U.S. hard assets the Chinese have purchased include, "In West Los Angeles, …Riot Games, the maker of the popular "League of Legends" game. Chinese Internet company Tencent Holdings Ltd. bought a majority stake in the firm in 2011 for $250 million.
In eastern Virginia, Shuanghui International Holdings spent $4.7 billion two years ago to buy Smithfield Foods Inc., the largest U.S. pork producer with 3,700 employees just in the state at the time.  In Chico, Calif., Chinese online commerce giant Alibaba Group owns and operates online U.S. retailer, 11 Main Inc."  
And it is not just American businesses that are being bought up in this Chinese buying spree.  The Huffington Post reports that  Chinese government-owned companies control terminals in the Port of Los Angeles and other West Coast ports, as well as both ends of the Panama Canal.  The China Ocean Shipping Company controls and owns the ports in Boston, Massachusetts, as well as, Long Beach, California.
100 Chinese investors have also begun signing up to spend $500,000 each to help pay for a long-awaited connection between the Pennsylvania Turnpike and I-95.  The Turnpike Commission is counting on 400 wealthy foreign investors, mostly from China, to provide $200 million for the $420 million project.  Toll roads in many American states are now owned by operatives associated with the Chinese government.   Patrick Bauer, the Indiana House's Democratic leader, says such deals are taxpayer rip-offs.  "In five, maybe 10 years, all that money is gone, and the tolls keep rising and the money keeps flowing into the foreign coffers," Bauer said.
CYBER SPYING
Yes,  this is the very same country that our government currently is waging a cyber spying war with.  Yet most American city officials, like Rhodes and  Chamber of Commerce President Brad Dean,  are actually chasing this investment.  Most state governors and federally elected officials, including John Kerry, of Boston Ma are praising the Chinese government as American job creators.   The average American citizen who might be  concerned about this high level of foreign investment has been labeled xenophobic by those in government and business who are just now cashing in.
Which brings us back full circle to Myrtle Beach
Locals and tourists each agree that the look and feel of the downtown Ocean Boulevard area in Myrtle Beach is dated and does need re-development.  Brad Dean, Myrtle Beach Chamber of Commerce President,  and Mayor Rhodes made the initial trips to China to lure in the capital that reports say will be used to finance a new downtown "enterprise zone".  Coupled with the re-development is a new mid tax that the city wants to collect, which we reported on yesterday.
LEVEL OF CITY PLANNED CONTROL
How our readers have come down on this issue has much to do with their ideas about the level of control a city government should have in a free market world.   China is clearly not a FREE MARKET.    China has something many American Mayors, Governors, and national politicians now fully embrace, which is what we call the Corporate State.  The Corporate State is a marriage between big business and big government. It is certainly not capitalism, nor is it democracy.   Big Business loves it because it gives them access to tax dollars and an inside advantage over any other competition.  Big Government loves it because it gives them greater leverage over small business owners, greater control over the citizenship, and a greater chance of staying in office because of the corporate cash that comes in during election season.
As the Economist reported in 2014, "CHINA'S state capitalism has attracted legions of admirers and critics. Admirers highlight the government's hand in guiding the economy to its superlative growth record, and see in its state-owned companies a well-oiled combination of commercial management and national mission. Critics counter that it is a brittle façade, that innovative private entrepreneurs are suffocated, losing out to state firms whose debt-heavy, politically motivated investments will eventually spell disaster for China."
Critics also point out the power that this relationship gives local and  state entities over the citizenship of any city.  City government,  operating in such a relationship will control all areas of citizen life including wages, opportunity, advancement, taxes, entrepreneurial entry into the market place, competition in the market place, among others.  For those more recent readers,  please note,  this development has already been occurring in Myrtle Beach for now over the past six years minimum.   As we prepared for this post,  many local business owners, who were upset that a planning meeting to discuss the new tax was called on a Christmas Holiday week when they were out of town,  asked that we please not post their names for fear of reprisals from the city of Myrtle Beach.  As we reported on the tax yesterday,  "small business owners are intimidated" by the muscle of this local city government backed up by the strength of an annual $30 million in revenue 1% tourist tax, two powerful local corporations, and now,  this international funding.
If you are a proponent of high control by the city of Myrtle Beach over private business, then the future of Myrtle Beach is certainly for you.
If you believe, however,  that local government has little space in this arena and should not dictate to owners in the private sector,  you might be picking up your shingle and moving out of this city,  as many have and are.
A NEW PRIVATE ENTERPRISE ZONE ON OCEAN BOULEVARD
Myrtle Beach will now enter the era of big business, with a newly re-developed Ocean Boulevard Enterprise Zone. Commerce in that zone will largely be controlled by Burroughs and Chapin,  Brittain Resort Management Hotels, and the city itself. This deal now has access to hundreds of millions from Chinese investors.
No person outside of high level city officials or of this business group knows exactly how this deal is structured as the city can legally keep such plans private by law,  when it involves development with private businesses or corporations.
We do know what happens, however,  to loans that do not perform over a  certain period of time.  The lender becomes the owner or partner depending on how the deal is structured.  In effect,  Chinese government associated businesses could one day own that area in part or entirely with operations headquartered in Shanghai.
These Chinese millionaires have no thoughts of ever becoming U.S. Citizens.
One key question we ask is, "Is this the only place our city and these private corporations can find funding?"   Are U.S. banks and U.S. investors fresh out of cash?
Perhaps so.
Related articles across the web
Comments
comments