One week until election. Who will turn out? Change election possible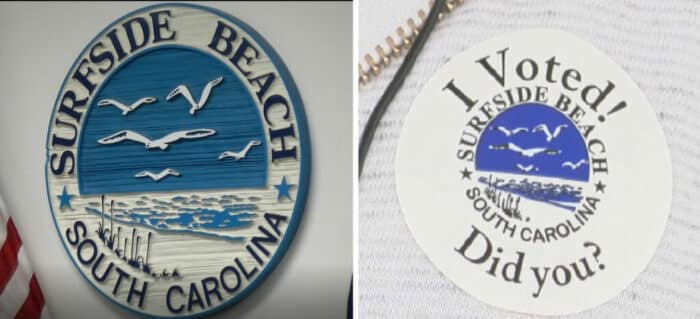 One week from today, city elections will be held county-wide.  At MyrtleBeachSC news, we specifically chose to focus on Surfside Beach during this election cycle.
Incumbents decided not to run for re-election.   Surfside Beach is the only town along the coast where a change election is possible.
A change election, in Surfside Beach, is only possible if "non establishment" voters show up at the polls.
WHAT ARE "ESTABLISHMENT" VOTERS?
"Establishment voters" are residents who gain some benefit from voting for collusive, local government politicians.  These voters either need certain legislation passed for their business, have a contract with government themselves, get ongoing contracts from government, or work for a firm that carries a significant, preferred relationship with elected officials.
A core group of regular, resident, "non establishment" voters showed up at a Residents Candidate Forum this past Saturday.  Candidates, who chose to attend,  fielded tough questions from Surfside Beach residents.
All Candidates Recommended By The Coastal Carolina Association of Realtors Chose To Boycott This Event
REST ASSURED,  establishment (collusive incentivized) voters will vote November 5th.  These voters are the base of collusive, elected politicians.
Mayoral candidate Julie Samples claims to have a base of 500 (locked in) voters.  Our own internal polling shows that number to be off, however.  We do show that she likely has a base of 300 such voters.
COLLUSIVE CEILING
The good news for resident first, focused candidates is that there is a ceiling for every politician who runs with promises made to a special base.  In short, these candidates can only get so many votes.
How do resident-first focused candidates win?   They must work hard to see that non establishment, everyday voters show up on election day.  While that sounds simple enough, average citizens have more to focus on than local government and they have no collusive reasons to vote at all.
LOCAL ELECTION TURNOUT GETTING WORSE
Voter turnout for local elections, typically held in off-cycle years, like this coming Tuesday's, has historically lagged behind state and federal races, but recent results suggest it's slowly becoming even worse.  As reported by Citylab.com,  in 15 of the 30 most populous cities in the U.S., voter turnout for a mayoral election is less than 20 percent.
Incumbents and collusive candidates have a huge advantage in local elections because of low, local voter turn out. Collusive minded candidates know that.
WHY IS A CHANGE ELECTION POSSIBLE IN SURFSIDE BEACH?   E DISTRICT COLLUSION
After an embarrassing, last minute vote on the E District by Surfside Beach Town Council, every incumbent chose not to run again this November.   Twenty three last minute changes were made to the E District ordinance.  All of those changes were recommended in a June 8th email sent by an attorney representing local property manager Mil Servant.   Every one of Servant's suggestions made the ordinance as last minute changes.
The ordinance passed with those amendments included.  This resulted in the town losing its CRS (Flood Insurance) rating.   A subsequent suit was filed by Surfside Beach Planning and Zoning.
The town quickly reversed itself, with Town Councilman David Pellegrino stating he had not read the amendments until just prior to voting for the ordinance.  Pellegrino stated he had no idea the amendments would cost the residents their ability to purchase flood insurance.
Of all the last minute changes made,  only the one costing the town its flood insurance was removed. Twenty two other collusive, last minute changes were left intact in the ordinance and remain in the ordinance as of  today.
Town Council then voted to fire the town's planning and zoning members.  Planning and Zoning is the very board who protected the town's flood insurance and  pointed out the collusion.
SEE LOCAL REALTOR MIL SERVANT'S ATTORNEY LETTER REQUESTING  23 AMENDMENTS BOTTOM OF PAGE
ELECTIONS ARE THE ONLY TIME VOTERS CAN HOLD ELECTED OFFICIALS ACCOUNTABLE
We highlighted this in a recent meme we placed asking if "Leopards could change their spots."
Immediately upon posting,  the Pellegrino camp cried foul. They claimed that pointing out Mayoral Candidate David Pellegrino's recent, collusive vote on the E District was not appropriate.   Pellegrino campaign operative Mary Beth Mabry was among the most vocal.
Pellegrino supporters pointed out that several candidates paid us to run political ads for them.
Advertising, and political advertising in particular,  is a key way MyrtleBeachSC news pays its bills.  However, we note that we offered our services to all candidates running.  We also note, paid advertisement in no way slants our news content.
More than any other local media,  MyrtleBeachSC news has fully covered all Surfside Beach issues on behalf of Surfside Beach residents.
We are resident focused, local news.
SERVANT REQUEST, LAST MINUTE AMENDMENT CHANGES E DISTRICT
SSB Memorandum 23 changes suggested by Mil Servant Attorney by David Hucks on Scribd
Memorandum SSB 2 23 change… by David Hucks on Scribd
Memorandum SSB 3 23 change… by David Hucks on Scribd
*Editor's note: This picture originally posted Mrs. Mabry headed Mayoral Candidate Pellegrino's campaign. Mrs. Mabry took offense to that statement. We have changed this copy to state that Mrs. Mabry is active in Mr. Pellegrino's campaign. She has been among his most vocal operatives.
Comments
comments