Myrtle Beach Hotels are reporting 100% occupancy beginning today as tourists pour into town for the Carolina Country Music Festival.
All hotel rooms and the festival itself are completely sold out.
The event kicks off this afternoon and runs all weekend. Details on the event follow the pictures of performers here.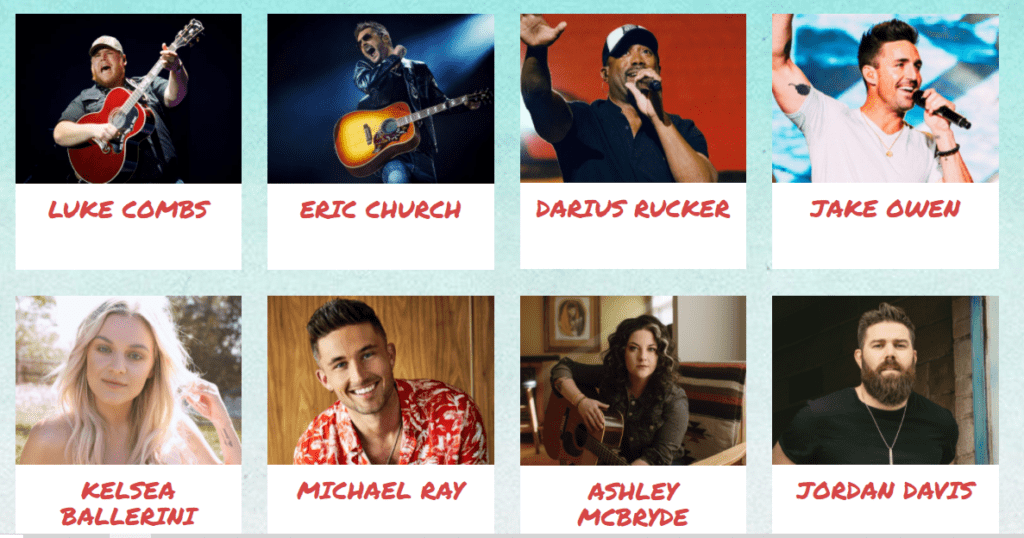 WHEN
June 10-13, 2021
Thursday | Gates Open at 6 p.m. and close at 11:30 p.m.
Fri-Sun | Gates open at 1 p.m. and close at 11:30 p.m.
WHERE
Fest: 812 N Ocean Blvd, Myrtle Beach, SC 29577
Box Office: Ground Zero, 904 Chester Street, Myrtle Beach, SC 29577 (will be open closer to event date)WHAT
The East Coast's largest 3-day outdoor country music fest.
WHO
The industry's biggest stars and national recording artists and 30+ more! Past years have included names like; Luke Bryan, Toby Keith, Florida Georgia Line, Zac Brown Band, Tracy Lawrence, Montgomery Gentry, Tim McGraw, Keith Urban and many more! See full line up here.
TICKETS
CCMF 2021 is currently SOLD OUT. Connect with CCMF to find out when tickets to CCMF 2022 go on sale!
CASHLESS WRISTBANDS
You can use your wristband to pay for all your onsite expenses. You can also pay by credit card or cash.
Wristbands will be mailed to the address on file from your initial ticket purchase. Those who receive their wristband in the mail prior to the event are urged to register their wristbands prior to the festival to avoid long lines.
TRAFFIC
Beach access at 8th Avenue North will be closed for vendor use throughout the fest, as well as the right turning lane from 9th Avenue to Kings Highway.
Pedestrian barricades will be placed between 7th Avenue North and 9th Avenue North.
Kings Highway will be one lane during the fest. The boulevard will be closed from 8th-9th Avenue North.
Side streets will be closed, but officers will be monitoring posts allowing people into businesses.
Police will be using hydro-barricades. Message boards will be located throughout the city encouraging drivers to use Grisson Parkway and Highway 31.
PARKING OPTIONS
Parking and continuous shuttle service are available from the Myrtle Beach City Lot (Former Mall Lot) at 2400 North Oak Street in Myrtle Beach, just minutes from CCMF, to the festival site. Please print your parking pass at home; you will be scanned in each day.
Purchase a 4 Day Parking Pass for $69.99 and stay covered throughout the festival or purchase a Single Day Pass for just $24.99 a day.
The parking lot will be open on Thursday from 5 p.m. until midnight and Friday through Sunday from noon until midnight.
Parking passes will be offered closer to the event.
FEST ENTERTAINMENT
Tons of fun, free entertainment.
ADA FANS WITH DISABILITIES
The festival site is ADA compliant. The festival site map will denote entrances and exits. Service animals will be allowed on the festival grounds.
BAG POLICY
Carolina Country Music Fest® has revised its bag policy to provide everyone with a safer festival experience, as well as to decrease the time it takes to get into the show. Please take note of the following, prior to making your way to the festival.
Bags that are clear plastic, vinyl, or PVC and do not exceed 12" x 6" x 12"
(Official CCMF Logo clear plastic bags will be available through festival merchandise outlets or at policyhandbags.com)
One-gallon clear plastic freezer bag (Ziploc bag or smaller)
Small clutch bags, approximately the size of a hand, with or without a handle or strap can be taken into the fest with one of the clear plastic bags.
An exception will be made for medically necessary items after proper inspection at a gate designated for this purpose.
Prohibited items include, but are not limited to: purses larger than a clutch bag, coolers, briefcases, backpacks, fanny packs, cinch bags, luggage of any kind, computer bags and camera bags or any bag larger than the permissible size.
A small clutch bag is defined as – "approximately the size of a hand with or without a handle or strap, no larger than 4.5" x 6.5"
Comments
comments