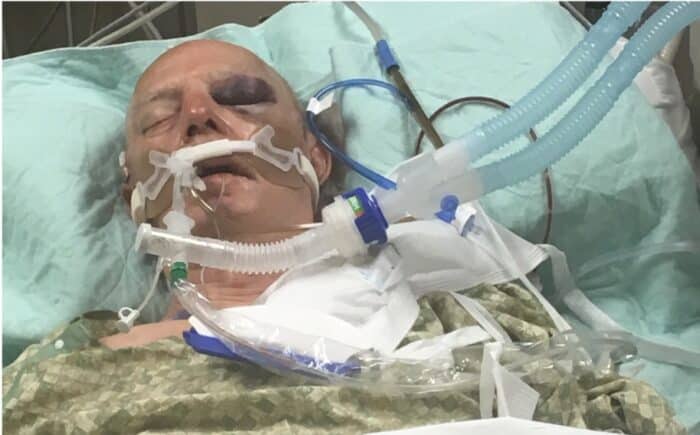 "It was an ass whipping," Surfside Beach Town Councilman Bruce Dietrich
December 8, 2018 began as an outstanding day for Surfside Beach Town Councilman Bruce Dietrich. He attended the Surfside Beach Christmas parade with his wife Tina, Mayor Bob Childs and the mayor's wife.
He and his wife then returned home and decided to go out to Neal & Pam's Bar and Grill. They chose to take a "ride share" to the bar as they planned on having a few drinks.
After several hours, Dietrich informed his wife he wanted to go home. As she wished to stay, he decided to walk the short distance back.
Councilman Dietrich says that it was only after he walked out of the back door of Neal and Pam's, and began his journey home, that his night turned into a nightmare.
"I did not fall," Councilman Dietrich told us. "It was an ass whipping." Dietrich told us his next vivid memory was waking up standing in a doorway at Waccamaw Hospital asking a nurse, "Who are you? Where am I?" Dietrich says he spent six weeks in physical rehab healing.
According to Dietrich, he suffered six broken ribs, a left side shattered collar bone, left eye shut closed, nose moved, and internal bleeding in the brain. Bruce Dietrich would later die twice in surgery.
OFFICIAL SURFSIDE BEACH POLICE REPORT
According to Surfside Beach police records (embedded below through SCRIBD) officers responded to 329 13th Ave South at 12:10 p.m. on December 9th in reference to a white male wearing only shorts and a t shirt laying by the stairs underneath a carport. Surfside Beach Corporal Blair noticed the person had blood on his face, as well as, a swollen black left eye. Male did not know what day of the week it was.
Officers asked the man what happened. He stated he fell trying to get into his house. Officers then called EMS and notified his wife.
Tina Dietrich then told police she and her husband got into an argument the previous night. She stated he left and never returned home.
Officers then located blood in the carport where it appeared to be the area that Dietrich fell. There was also blood on a grey radio in the carport as well as blood on the stairs where Dietrich had been laying. At that time, based on Dietrich's statement and the blood in the carport, Patrolman Danielle Ehmer and Police Corporal Josh Blair reported they had reason to believe that Dietrich did fall in the carport and was unable to get up.
The initial report was officially filed as a falling incident and remains filed as an accident to this day. No crime scene area was marked off nor protected.
Dec. 11th Police Follow Up
Officer Blair informed the family that he was the officer who found the councilman. Blair told the family that Dietrich was found with his cell phone, keys and wallet. Blair said the councilman was found with his pants off and his shoes placed together on the side of the carport.
The family asked if the officer found it strange that Dietrich's pants were off. Blair told them that is was strange, however, Dietrich was soaked from rain and it was very cold. Blair said he believed that Dietrich removed his wet clothing to reduce the effects of hypothermia.
March 16th Follow Up
Surfside Beach Police Corporal Josh Blair's follow up of the incident recounts:
While on the scene, waiting for EMS, PFC Ehmer arrived with Tina Dietrich. Officer Blair gathered Bruce Dietrich's telephone, key, and blue jeans, which were sandy and wet. In the back pocket, he found his wallet. Office Blair reports cash found in the wallet. Blair states he placed the clothes in the back of a truck because they were wet. [Turning these over to Tina Dietrich.]

Best Friend's Account
MyrtleBeachSC News spent a full hour interviewing Surfside Beach resident Steve Shore. Shore and Dietrich equally consider one another best friends.
"What happened to Bruce got swept under the rug," said Shore. … He is a sitting councilman and he got the hell beat out of him in Surfside."
Dietrich, himself, told us that Charlotte based neurosurgeon Stacia L. Cheadle agrees. Cheadle performed the life saving surgery at which time Dietrich died twice during the process. Dietrich says Cheadle told him there is no way these type of injuries were consistent with a fall.
Said Shore, "Where they found him, I don't think he was beat there. I think he was dumped there."
Shore says he believes Dietrich's body was dumped on 13th South at 4 o'clock in the morning. Shore asks, "Why did no one preserve the crime scene? There was no formal investigation."
WAS IT THE WIFE?
"If anyone had a motive she [Tina] did," said Shore. Dietrich informed MyrtleBeachSC news that he asked his wife for a divorce just days before the incident.
Shore believes Tina wanted him killed. Bruce Dietrich spent 26 years on the police force and collects full pension. "In the event something happened to him [Dietrich], she collected it the rest of her life," said Shore.
"People seem to think that it might have been politically motivated, I don't think so," said Shore. "No one wants to admit their wife tried to kill them. Supposedly, there was ten thousand dollars missing from their bank account."
"They [the police] never even preserved the scene and they took his clothes and gave them to his wife," said Shore. "They just didn't want to give the town a black eye."
Police records (shown in full below) show that the police did give Dietrich's clothes to his wife. Councilman Dietrich says she threw them away because they were bloody and muddy.
Councilman Dietrich and his wife are currently separated and seeking a divorce.
SOMETHING DOESN'T ADD UP
"Ten thousand dollars would get the job done," Shore told us. MyrtleBeachSC News asked that if we all agree that the councilman was knocked out, and they were to collect $10,000.00, why would they not finish the job? Dietrich was completely knocked out and unable to defend himself.
How do you collect on a job you never finished?
Was someone trying to send the councilman a message?
We asked Shore if the police had any reason to collude with Tina. He said no. Shore did say Police Chief Hoffman never even called the mayor about this incident.
Shore insisted that someone wanted this investigation shut down. We asked him who would that be? He said that anything he would say would be pure speculation.
Several others in town have pointed the finger at the town's former Mayor Bob Childs. Bruce Dietrich stated, however, he did not believe the mayor shut down the investigation. "I am not disturbed, nor upset [with the police department]," said Dietrich. "They did the best they could do with what I gave them."
HUSH HUSH AT THE TIME
Town resident Tom Dodge stood before town council asking where is Bruce Dietrich shortly after the incident took place.
As can be seen above, Councilwoman Scoles became upset calling a point of order. Mayor Childs responded to Dodge, "You don't have 5 minutes, your time is expired." Mr. Dodge never got a direct answer to his question.
Dodge's daughter, Surfside Beach resident Liz Dodge then began the below email campaign.
__________________________________________
From: "Liz Dodge"
To: "[email protected]", "[email protected]", "[email protected]", "[email protected]", "[email protected]", "[email protected]", "[email protected]"
Cc:
Sent: Thursday January 17 2019 10:06:21AM
Subject: RESPONSE REQUESTED
This is the 7th emailing on this subject and as of now I have only received 2 responses to my questions. Mr. Pellegrino while I appreciate your response to my 6th request, I feel that we as the constituents of the elected officials should have the same respect you expect. You stated that you have no "new" information, however WE have no OLD information.
Mr. Childs you have yet to respond to the other question of why you feel the need to send your personal militia to speak to residents that disagree with your opinion.
Mr. Pieper, you stated that you are free to answer all questions from citizens if they come to your office, why are you so afraid to answer the citizen's question in an open forum during council meetings?
These are simple questions that should not require much thought or effort on your parts.
To whom it may concern:
This is the third time in the last 3 days that I have sent you this email, and I will continue to send this email until I receive a response.
I am writing to you to ask the question Where is Bruce Dietrich?
I as a citizen and taxpayer of this town feel I deserve an honest and transparent answer. I am not asking for anything that would violate HIPPA, all I am asking is what is his status?
There are many rumors going around town from he was involved in a motor vehicle accident involving DUI in Charleston County, he was arrested for said DUI and has been remanded to court ordered rehab. If there is a benign reason for his continued absence why keep this shrouded in mystery?
I'm sure there are many in this town that would like to send him get well cards and flowers, and I'm sure that Surfside Strong would also like to send their poster child their get well wishes as well.
If Mr. Dietrich is so incapacitated that he is not able to fulfill his elected duties then perhaps there should be a special election to bring in a replacement for him. We have been kept in the dark long enough, Mr. Dietrich has missed 4 meetings that have involved very crucial votes. How many more meetings will we have without a full council?
You all profess that you are advocates of transparency, so now is the time to prove it. The constituency of this town deserve answers.
I would also like to know why the Mayor is using the police officers of this town to "investigate" citizens who speak against him. If the Mayor is directing the police chief to send his officers to every person that disagrees with the Mayor we won't have any officers protecting our town!! If the police chief is following this direction then the police chief needs to be investigated.
What are you people so afraid of?
I don't deign to believe that I will get a response from you.
Regards,
Liz Dodge
—————————————–From: "Liz Dodge"
To: "[email protected]", "[email protected]", "[email protected]", "[email protected]", "[email protected]", "[email protected]", "[email protected]"
Cc:
Sent: Wednesday January 16 2019 9:11:12AM
Subject: FW: response requested
I have yet to receive a response from you. Mr. Pellegrino you tell everyone that you answer ALL of you emails. Mr. Childs you stated that the administrator answers ALL questions. I have been asking this question for 6 days now and I have yet to receive a response.
—————————————–From: "Liz Dodge"
To: "[email protected]", "[email protected]", "[email protected]", "[email protected]", "[email protected]", "[email protected]", "[email protected]"
Cc:
Sent: Tuesday January 15 2019 9:17:53AM
Subject: response requested
I will continue to flood your email boxes until I receive a response.
—————————————–From: "Liz Dodge"
To: "[email protected]", "[email protected]", "[email protected]", "[email protected]", "[email protected]", "[email protected]", "[email protected]"
Cc:
Sent: Sunday January 13 2019 7:40:33PM
Subject: i have all the time in the world
Day 5 you have still not responded
_________________________________________
Happier Times, but no resolution
Councilman Bruce Dietrich told us, "From my 26 years in law enforcement, if we are patient and wait long enough, someone will talk."
He added, "I am blessed to be alive and proud to serve the residents of Surfside Beach with our newly elected team."
In the video just below, taken on Tuesday, Mr. Dietrich tells Surfside Beach residents, "It's been a rough 4 years for everybody in this room, but I think we are finally getting there."
A CRIME AGAINST ALL
What happened to Councilman Bruce Dietrich was a crime against every resident of Surfside Beach.
The town is thankful for his determined will to survive and his police training that likely saved his life.
It was heart warming to see a smile on his face as he expressed his closing remarks to town council this week. The new mayor, current council members and town residents wish him well.
Each best viewed by clicking onto SCRIBD
Liz Dodge Emails Where is Bruce by MyrtleBeachSC news on Scribd
Surfside Beach Police Report by MyrtleBeachSC news on Scribd
Comments
comments