With Crumbling, Congested Roads & Infrastructure Issues- New Homes Coming
Heather Glen Golf Links will closed last December.   A plan submitted to the county by Thomas & Hutton engineers for D.R. Horton  shows new home growth of  about 1,100 units – 799 single-family homes and 284 duplex units on the site where the golf course once sat.
D.R. Horton has numerous developments in varying stages ongoing throughout Horry County.  Those new neighborhoods  include Tuscany and Sago Plantation near U.S. 501, West Lake in Market Common, The Farm in Carolina Forest, Retreat at Ocean Commons in Deerfield Plantation, Harmony at St. James and Hidden Brooke off S.C. 90 in Little River.
Residents of Horry County, however, state that the area has been over-developed.  With, as many as, one hundred thousand new residents expected county-wide in the coming years, crime issues in Carolina Forest have highlighted the need for more county police officers to keep up with that growth.  The average current wait time for an Horry County "priority one" crime response is over 20 minutes.
LANIER HOMES NEIGHBORHOOD FLOODS AGAIN THIS WEEK – RESIDENTS SAY SLOPPY PLANNING
Flooding in several neighborhoods near North Myrtle Beach, yesterday, caused residents to question the current leadership of both North Myrtle Beach House Representative 104 Greg Duckworth and Horry County Council Chairman Mark Lazarus.  Owners of homes in Polo Farms on Highway 905 told MyrtleBeachSC.com that the county should have provided better infrastructure for flooding or should have never signed off on the homes to begin with.  The area is prone to ongoing floods with one day or more of rain.
We reached out to Mark Lazarus, Horry County Council Chairman and Greg Duckworth, District 104 Representative for their comments on these issues.  The Longs area is within the jurisdiction of both elected officials.  Neither chose to respond to our request for a comment.  Residents along Hwy 905 told MyrtleBeachSC news, they were getting the same non-response from these two officials as well.
Because of their historic close ties to large, outside developers, the Coastal Carolina Association of Realtors and the Myrtle Beach Area Chamber of Commerce, both Lazarus and Duckworth are being called to task by residents.  A growing group is demanding a balance between growth and maintaining "quality of life" support for residents who currently call Horry County home.
Candidate for District 104 William Bailey told MyrtleBeachSC news, "These developers simply come in, take the huge profits and leave."  Bailey believes impact fees should be charged to  developers to cover the cost of needed infrastructure.  His position is not one currently supported by either incumbent, nor the Coastal Carolina Association of Realtors.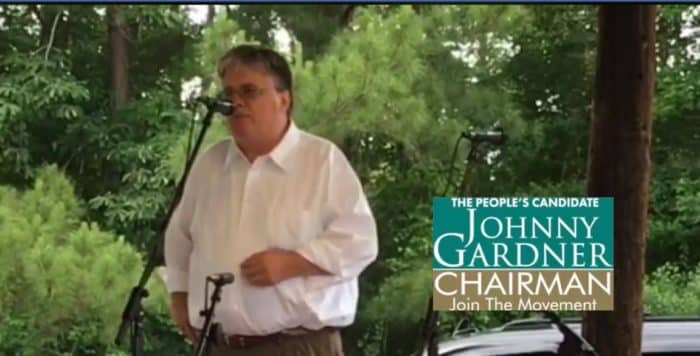 Horry County Council Chairman candidate Johnny Gardner responded to our request for a comment on resident concerns along Highway 905.  Said Gardner, "That area of Hwy 905 has always been prone to flooding.  It's a perfect example of allowing developers to control the process.  They made their money and got out, now the homeowners are stuck with the consequences. Just another example of why we need change on Horry County Council."
While Horry County Council has not signed off on the Heather Glens development as of yet, the latest filings show that checks of $3,000 in total were paid to Chairman Lazarus as campaign contributions from three courses within the Glens Group.  The Glens Group manages Heather Glens.
Mr. Lazarus and Mr. Duckworth are favored by the Coastal Carolina Association of Realtors (CCAR).  Typically, within the last week of campaign season,  PACs associated with the Myrtle Beach Area Chamber of Commerce and CCAR drop ongoing and continuous mailings in support of their favored candidates.
At other times these same PAC mailings simply denounce candidates these groups want defeated. With less than 2 weeks until the June 12th elections, residents can check their mail boxes over the coming days.
Comments
comments