Just a little over an hour after S.C. Governor Henry McMaster delegated the opening of beaches to city mayors throughout the state, the City of Myrtle Beach put out notice it would remain closed.
While the City of North Myrtle Beach, Surfside Beach, Pawleys Island, and the unincorporated areas that include Garden City Beach are likely to open today, Myrtle Beach must remain closed.
The city of Myrtle Beach did not give a reason for remaining closed, but an article that we published just last week sheds great light. https://myrtlebeachsc.com/city-of-myrtle-beach-quarantines-92-employees-per-city-manager/
A leaked letter sent from City Manager John Pedersen to city staff stated 92 employees had been quarantined in total.
The Sun News later jumped on this story, as well, and published this yesterday: https://www.myrtlebeachonline.com/news/coronavirus/article242132541.html
STARTED WITH A PAINTER
A city painter also just happened to moonlight as a janitor at Grand Strand Hospital per sources inside the city. This painter became infected with Covid 19, but was unaware.
While painting the city's property on 13th South several employees there became infected. Pedersen wrote to staff, "At this point we have had 5 employees who are confirmed positive, 3 in Police, and 2 in Building Maintenance."
As the Sun News reports: Even with the order in place, Myrtle Beach police hosted a retirement party for a lieutenant on April 9. Photos and videos posted on the department's social media pages shows officers and city employees sharing close quarters, hugging and interacting. That party was held despite the order and while dozens of officers were in quarantine for exposure to COVID-19.
Sources, inside the city, tell us several of the infected police officers attended that party.
DO AS I SAY, NOT AS I DO
While City Manager John Pedersen was mandating private citizens to stay home and social distance, those rules were being broken at city hall.
APOLOGISTS FOR PEDERSEN
The city can not open because it's staff is compromised with quarantines.
No other city in the State of S.C. blundered this pandemic like Myrtle Beach City Government. No other city in the state required such massive quarantines.
We have continued to report on the ineptness of City Manager John Pedersen.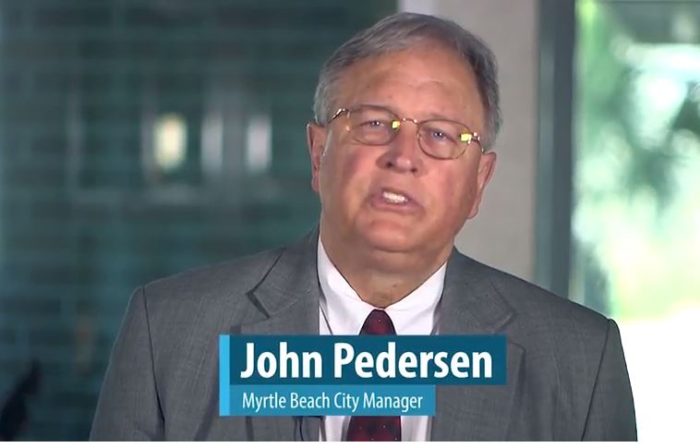 Myrtle Beach City Council and Mayor Brenda Bethune equally continue to make excuses and apologies for him.
Comments
comments