County Police & Firefighters Show Support At Gardner Event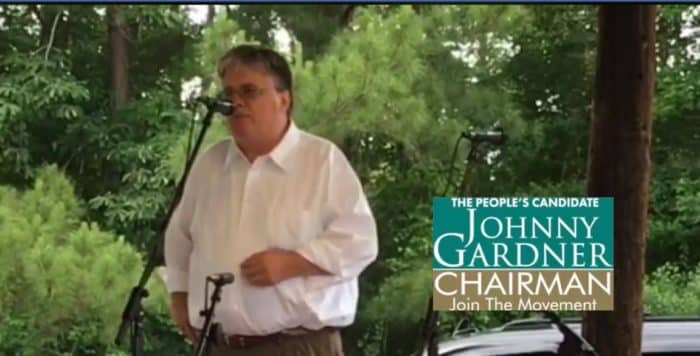 A group of  250 enthusiastic and energized,  Horry County policemen, firemen, and county residents showed up in force last night at a Johnny Gardner for Horry County Council Chairmen event held just west of Conway, S.C.  Gardner is running for the seat currently occupied by Mark Lazarus.  The election takes place county-wide on June 12th.
Entertainment, food, and fellowship hallmarked the get together with speakers that included a key county police officer stating, "This is our opportunity to drain the swamp!  But Mark Lazarus just bought the swamp for $12 million."
Those speaking were clear that Gardner's campaign is a grass roots movement.  Said one speaker, "We know we aren't going to get any (Myrtle Beach Area Chamber of Commerce) Chamber monies nor (Grand Strand Business Alliance) PAC monies."
The campaign is finding momentum across the county as residents are concerned about what they consider the unchecked growth of Horry County coupled with current Horry County Council's lack of concern or planning for such growth.
As we reported yesterday,  the average response time for a "priority one" police call in the county is over 20 minutes.  With the recent home invasion and ongoing burglaries in Carolina Forest, residents are responding to Gardner's campaign message.
Gardner clearly has the support of every day, local families.  While his resonance is soft spoken, his message is firmly rooted in putting residents ahead of a broken system that continues to block the necessary quality of life improvements needed in Horry County.
Comments
comments