As TIME MAGAZINE reports, Chinese law seeks the death penalty for embezzlement crimes of $463,000.00 or more.
What was touted by former Myrtle Beach Area Chamber C.E.O. Brad Dean, and the local press as a new and exciting chapter in Myrtle Beach golf has now become an international hunt for a local golf course owner wanted by the Chinese government.
Sources inside the Chinese Organized Crime And Corruption Reporting Project have confirmed that local Founders Group International owner, Dan Liu, is on their list of 896 top people sought by the Chinese government. As China is a nation of 1.379 billion people, a list of 896 fugitives is a short list.
FGI purchased 22 area Myrtle Beach Golf courses in 2014 and 2015 in what the Sun News later called a Chinese Ponzi scheme.  The funds were raised by a firm called Yiqian Funding.   As Alan Blondin of the Sun News reported this week, Liu's partner in the Chinese company Yiqian Funding, a peer-to-peer lending business that seeks investors, testified May 3rd in her fraud trial in Nanjing that Liu was in control of the company when it became unable to pay many investors what prosecutors estimate to be $1.17 billion — or 7.4 billion yuan.
As was also reported last June, The Sun News obtained documentation emanating from the District Attorney's Office in the Jiangsu Province that indicates at least 12 senior staff members of Yiqian Funding have been arrested on suspicion of financial fraud, and Liu is sought for arrest.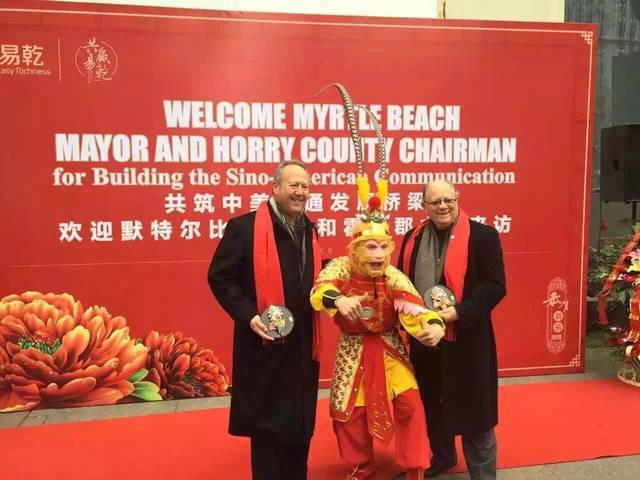 According to published reports, Liu has been living in Myrtle Beach.  Liu is a Chinese citizen. He has never become a naturalized U.S. citizen.
To become a U.S. citizen, you must:
Have had a Permanent Resident (Green) Card for at least five years, or for at least three years if you're filing as the spouse of a U.S. citizen

If you apply for naturalization less than six months before your Permanent Resident Card expires, or do not apply for naturalization until your card has already expired, you must renew your card.
You can apply for naturalization before you receive your new Green Card, but you'll need to submit a photocopy of the receipt of your Form I-90, Application to Replace Permanent Resident Card, when you receive it.

Meet certain eligibility requirements including being

At least 18 years old at the time of filing
Able to read, write, and speak basic English
A person of good moral character

Go through the ten step naturalization process which includes

Determining your eligibility to become an American citizen
Preparing and submitting form N-400, the application for naturalization
Taking the U.S. Naturalization Test and having a personal interview
As Liu is now wanted back in China, however, sources continually report to MyrtleBeachSC news that since January of 2018, Liu has been living in Costa Rica.  MyrtleBeachSC has not been able to confirm those reports.  We have hired an outside team to help us determine exactly where Liu currently resides.
As TIME MAGAZINE reports, Chinese law seeks the death penalty for embezzlement crimes of $463,000.00 or more.  Jiang Laiyong is a reseacher at the Chinese Academy of Social Sciences.  "Setting up the new supervisory commissions is a major reform that will have new deployments and integrate anti-corruption resources. In particular, they will effectively improve the capability to hunt down corrupt Chinese fugitives and recover their illicit assets," said Jiang Laiyong, a researcher at the Chinese Academy of Social Sciences' China Anti-Corruption Research Center.
While reports indicate that Liu took more than $1.17 billion out of China, only $350 million was spent in the Myrtle Beach area to purchase the 22 golf courses.  Questions remain as to what happened to the other $750 million.  Also highly curious is how Liu has managed to escape being extradited back to China.  With $750 million unaccounted for, Liu certainly has maintained the available cash to find political support in both China, as well as, South Carolina.
Investigating this story has been much like pulling on a weed, only to find a tree attached to it.
Previous golf course owners, the Myrtle Beach National Company and Burroughs and Chapin, formed a shell company called National Golf Management.  National Golf Management handled the Chinese golf course purchase, only to largely disappear after the transaction was completed.  FGI acquired 12 golf courses from National Golf Management for a reported $19.2 million in late April 2015. A few days prior it had announced the purchase of Traditional Golf Club in Pawleys Island and Wild Wing Plantation near Myrtle Beach. Both had been owned by different investor groups and managed by National Golf Management.
Horry County Council Chairman, Mark Lazarus, and former Myrtle Beach Mayor John Rhodes traveled to China in February 2016 for a 16-day visit with business leaders.  Rhodes made many such similar trips.
The real estate agent, who brokered the golf course purchase on behalf of National Golf Managment, is a long-time, Lazarus business partner, and close friend, D.J. Karavan.
In 2017, Liu made Karavan the executor of FGI in the event that Liu and his wife should suddenly be required to leave the country.  If rumors are true that Liu and his wife are no longer in the USA, then Karavan, by default is now running the 22 FGI golf courses.
Nothing on Karavan's resume, nor his history, however, indicates he has any experience in managing a large golf course operation.
Comments
comments