After ongoing violence in the downtown City of Myrtle Beach, S.C., MyrtleBeachSC News advises American tourists to visit the cities of: North Myrtle Beach, Surfside Beach, Garden City Beach, and Pawleys Island Beach.
All beaches along the Grand Strand are safe and family oriented, with the exception of the 9.9 mile stretch known as the City of Myrtle Beach.
Tourists and residents of the City of Myrtle Beach awoke to this Sunday, May 17th.
RIVAL GANGS COMMANDEERED CITY STREETS SUNDAY FROM 3 P.M. FORWARD
AT 7 P.M. STREET-SIDE GUN VIOLENCE BEGAN ON OCEAN BOULEVARD
Tourist Toddler Nearly Killed
POLICE PRESS CONFERENCE CREATES TRAVEL CONCERNS
As reported by the Myrtle Beach Sun News:
During an emergency Myrtle Beach City Council meeting held via conference call Monday afternoon, Prock cited a lack of communication from the business community as the reason why the events took place and why her department wasn't prepared for the influx of tourists.
"The information we originally received was inaccurate at best," Prock said. "It was extremely disappointing to me and my staff that the communication between our business community was lacking with our department."
There were about two dozen golf carts seen in the video and no police present to break up the scene.
"It is my hope that we count on these relationships to be successful," Prock said. "Communication is a huge piece for us being successful. We work together as a team to make sure our community is safe."
As the Charlotte Observer reported in 2015: More than 800 surveillance cameras purchased for the City of Myrtle Beach https://www.charlotteobserver.com/news/local/article31604063.html
There are, in fact, 800 security cameras constantly combing the city streets of Myrtle Beach.
The Myrtle Beach City Council is comprised of 2 business members who hold significant standing in the tourism industry.
Myrtle Beach City Councilwoman Jackie Hatley is a local hotel owner.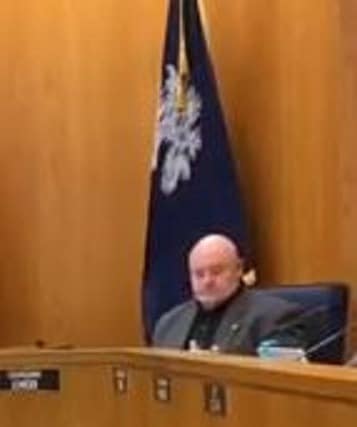 City Councilman Mike Lowder owns one of the most prestigious hotel security firms in the area.
Yet, with these two serving council, Chief Prock still made these remarkable claims of "no support" and "poor communication" from among these two business owners.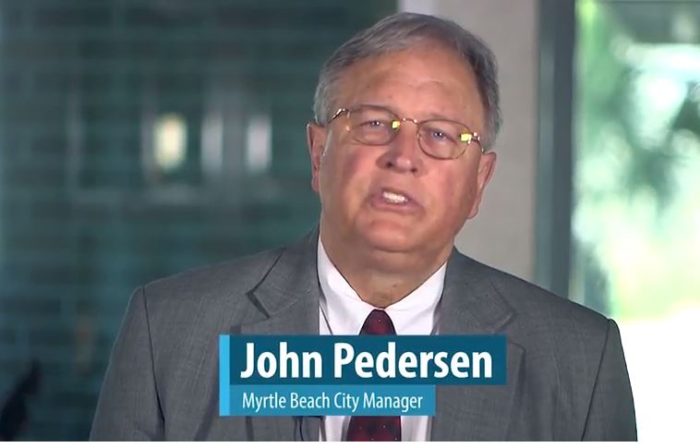 Concerning the violence, Myrtle Beach City Manager John Pedersen made these remarks.
The Sun News also reported: City Manager John Pedersen added the city's occupancy rate was much higher than originally expected. He also advised visitors to call the police if they feel their safety is in jeopardy instead of taking to social media with several videos and posts going viral depicting the weekend's events.
NOTE THE CONTRAST – Chesterfield Sherriff's Office
The Myrtle Beach City Manager John Pedersen's remarks about tourist/resident action are in sharp contrast to those of the Chesterfield, S.C. County Sheriff's office, where one key gang member was arrested this week.
Sheriff Dixon stated he would like to thank the citizens who provided tips in the capture of Dennis Dashawn Stewart.
ONGOING ISSUES WITH POLICE AND CITY MANAGER
The Myrtle Beach Sun News also reported on April 20, 2020:
Dozens of Myrtle Beach employees in COVID-19 quarantine as cops hold party, hide info
That figure includes 58 Myrtle Beach police employees, an agency that has routinely hidden behind federal guidelines to deny saying how many officers have tested positive for COVID-19. It's the same agency that is holding retirement parties in close quarters despite orders from the state that bar gatherings of three or more people.
As of Friday, there are 44 city employees currently quarantined for the COVID-19, according to a letter City Manager John Pedersen wrote and provided to The Sun News. There are 48 other employees that were quarantined, but have returned to work.

Read more here: https://www.myrtlebeachonline.com/news/coronavirus/article242132541.html#storylink=cpy
Our news team will continue to recommend this travel advisory until the Myrtle Beach Mayor and Myrtle Beach City Council choose to address the issues with management of the Myrtle Beach Police Department, as well as, issues related to the Myrtle Beach City Manager.
Comments
comments