MYRTLE BEACH HOME VALUES WILL PLUNGE IF A CHINESE GOLF COURSE OWNER ABANDONS MYRTLE BEACH ASSETS
No one wants to buy a home on a golf course when that course is closed
Myrtle Beach home values will plunge if a Chinese golf course owner is forced to abandon these American assets.  Myrtle Beach golf course owner Dan Liu,  President of FGI, promised nervous Chinese investors last month he would sell his  American assets.  His Myrtle Beach Company, FGI,  owns 22 area golf courses in Myrtle Beach.  Liu promises to sell American assets to  replenish funds in a Chinese company of which he is president.   Yiqian Funding recently had its Chinese offices raided in China and some assets were frozen.
Mr. Liu is not an American citizen.   China could extradite him at any time the country wishes.  His problems in China could cause his American assets to be frozen as well.  His problems could also cause him to go into exile rather than face the Peoples Republic of China.  In a worst case scenario,  FGI could abandon their Myrtle Beach investments altogether. With assets frozen,  the golf courses would sit empty with the properties tied up in international litigation.  Each would cease to operate.
Any of the above outcomes would be a nightmare scenario for Myrtle Beach home values.   Especially homes on or near one of the Myrtle Beach area golf courses Mr. Liu's team owns.
Mr. Liu promised Chinese investors in April he would sell American assets. Those promises do not square with reality, however.
Several commercial real estate agents we spoke with tell us  it is  impossible for Mr. Liu to sell 22 Myrtle Beach golf courses quickly .  Selling them at even half the price he paid for them would be virtually impossible.  Agents we spoke with said FGI would need to sell those courses at 20 cents on the dollar if a quick sale was demanded.
The central problem with selling those courses: No up and coming renew-able customer base exists.  People under 40 simply are not playing golf.  People over 60,  who are,  have retired to an area where they now play on a home course.  For all intents and purposes tourism- travel golf is a dying market.
What Happened To Bay Tree Home Owners – A model for local concern


Bay Tree Golf Plantation was a North Myrtle Beach gem sold and closed in 2006.  The 54 hole course was sold to a real estate developer who planned to convert the asset entirely into a housing development.  With the collapse of 2009, however,  the development never came.  The golf course today is closed and overgrown. Myrtle Beach home values there have plunged.

In 2005,  home values at the Villages at Bay Tree were $160,000.  These same homes today are listed at $69,900.   Even when factoring in the real estate bust of 2009,  these numbers are still frightening for any Myrtle Beach area homeowner.  In 2016,  these homes are listed  for 57% less  than they sold for before the golf course closed.  Most sell for even less than listing price.
We spoke with a local realtor who sells residences at the Villages at Bay Tree.  "Prices went down by more than half,  when the course closed," he said.  "While listed in the 60's today,  many can be bought as low as $50,000.  Myrtle Beach home values there bottomed out in 2011 at $40,000.  Prices are finally starting to creep up again now," he added.
Only MyrtleBeachSC.com and the local Sun News newspaper have covered the current looming Chinese collapse that will occur in real estate if FGI is forced by the Chinese government to quickly sell their Myrtle Beach assets.   In America Dan Liu says all is well.  In China,  he promises to unload his American assets.   In America Liu says he is just a consultant to Yiqian.  In China he says he is the President.  These two different stories just don't add up.
Mayor Rhodes says that he believes Liu is the key man, "the boss", in China.  He should know.  He has visited the country eight times in securing this purchase.   On the heels and the prowess of a 1% advertising tax,  it was Mayor Rhodes and Brad Dean (C.E.O. Myrtle Beach Area Chamber) who visited China and brokered the deal for local tourism moguls that include the Brittain family and Burroughs and Chapin.    Dean and Rhodes actually sought out and pursued Liu to make this deal happen.  Officials with the Peoples Republic of China are now limiting visas for Chinese nationals to visit Myrtle Beach while the Chinese government sorts out what many are calling a Chinese Ponzi Scheme.
Average Myrtle Beach home values in Pine Lakes are well above those at Bay Tree Golf Plantation.  Home values in that neighborhood can run over $500,000.  Frozen assets at Pine Lakes Country Club would cost home owners conservatively $300 million.  "No one wants to buy a home on a golf course when that course is closed," said Skip Hoagland. "If those assets become frozen, the course is in effect shut down until international issues can be resolved."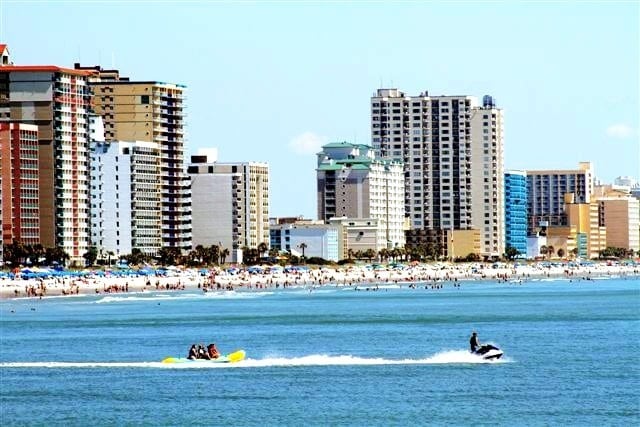 Resident's Rights members scoff at those who say that just could not happen.   America owes the Chinese people $1.3 trillion.  A request by the Chinese government to freeze Mr. Liu's assets would be quickly accommodated.  The course would close just as quickly."If those 22 golf courses were required to immediately close,  Myrtle Beach home values would collapse," said  one local S.C. watchdog.  "This problem can be laid 100% at the feet of Brad Dean, John Rhodes and this 1% Chamber of Commerce tax," he added.   Conservative area home loss estimates put the total area market depreciation loss at well over $10 billion.  Oddly most of the newer homes recently purchased at Pine Lakes were bought from associates of the very firm that sold the golf course to the Chinese.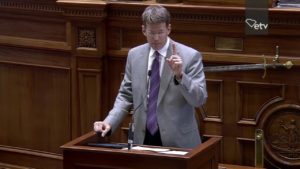 Just this past week, the S.C. House and Senate passed a law extending the 1% local option tax to 2029.  Eighty percent of those funds go to the Myrtle Beach Area Chamber of Commerce.  The Chamber of Commerce has been paid over $20 million yearly in tax welfare since the law took effect in 2009.  The latest bill was introduced by local S.C. senators Rankin, Cleary, and Hembree last February 25th.  At the appeal of  Governor Haley and at the request of the Resident's Rights group,  a voter referendum will now be required for the tax to be extended.  The city of Myrtle Beach does get to set the date when that vote takes place.
Resident's Rights members expect the city to choose a date when low voter turn out can be assured.  Mayor Rhodes has already attended two area neighborhood watch meetings where he expressed the dire need to continue the tax.  At both meetings,  he was confronted with the facts by local residents.   Residents believe they should not be taxed for the purposes of marketing private businesses.  Resident's Rights members also state that this tax has lead to corrupt insider deals including these shady Chinese investments.  They have no problem with the tax,  but believe proceeds from the tax should go as a rebate to local residents.
No one can predict what the Chinese government will require nor what looms ahead for these Chinese Myrtle Beach investments.   All is not as well as Mr. Liu asserts here locally, however.
The Resident's Rights group estimates that Myrtle Beach home values will tank everywhere locally  if the Peoples Republic of China puts Mr. Liu on a short time table.   They believe even oceanfront home values could  depreciate as a result of overall market declines.
Related articles across the web
Comments
comments