Speaking yesterday to S.C. residents in his annual State of the State address, Governor Henry McMaster said he believes the governor's office should pick our judges and not lawyer legislators.
Said McMaster, "Gubernatorial appointment of all judges, with advice and consent of the state Senate, requires no re-invention of the wheel" He added, [This] "will inspire the confidence of our people, and will encourage more excellent attorneys to seek public service."
Governors of thirty-one states pick judges using commission plans to aid the governor in selecting judges. In four States the governor appoints judges without using a nominating commission. All of these states pick judges that are subject to advise and consent senatorial confirmation.
The vast majority of superior court judges initially reach the bench via gubernatorial appointment.
Only two states, South Carolina and Virginia, allow legislative lawyers to pick their judges. In S.C., judges are first screened by the Judicial Merit Selection Committee, headed by lawyer and Senator Luke Rankin from Horry County.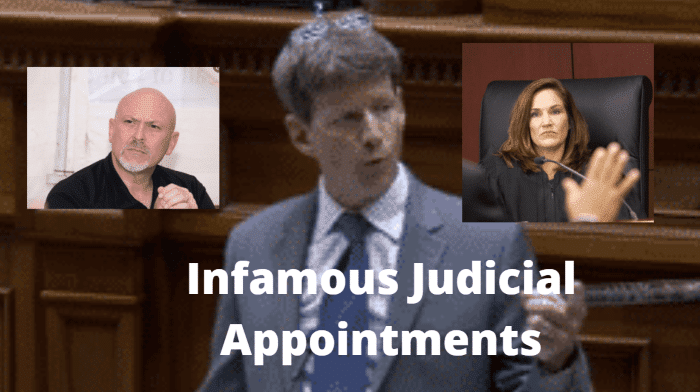 Rankin is also the head of the Senate Judiciary.
Infamous appointments, including Kaye Hearn and Carmen T. Mullen are the legacy of Rankin's recommended judges.
Carmen T. Mullen is famous for inserting herself into the trial of Rankin's political consultant, Richard Quinn. Quinn was indicted, but Special Prosecutor, David Pascoe, believes her involvement put handcuffs on the work he was doing to expose and take down the Quinn empire. Luke Rankin still employs Quinn's daughter to run his political campaign operations.
The last campaign Rankin ran, was considered one of the most dishonest and dirtiest in S.C. history.
MURDAUGH TRIALS
The current Murdaugh Trial is another example about how corrupt the process continues to be.
Alex Murdaugh was the prosecutor for the 15th Circuit. Mullen continues to operate as a judge in that circuit.
The judge presiding over the Murdaugh trial is none other than Judge Clifton Newman. Newman's former law partner, Senator Ronnie A. Sabb, also has served on the JMSC. He serves on the Senate Judiciary with Rankin.
WHO WAS ONE OF RONNIE SABB'S BIGGEST SUPPORTERS?
S.C. residents will be shocked to learn that among Ronnie Sabb's supporters are none other than the Murdaughs, who have given generously to his campaign.
Comments
comments