Locals Say "Not So Fast" On Beach Re-Nourishment Funding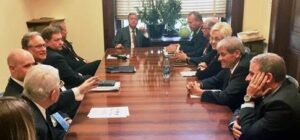 SHOWN CLOCKWISE FROM CENTER IN PHOTO: Lindsey Graham, Mark Lazarus, John Rhodes, Marilyn Hatley, Mike Mahaney, Chris Eldridge, John Napier, Justin Powell, John Pedersen, Brad Dean, Duane Parrish.
Locals Say No To Beach Re-Nourishment Funding
A group of Horry County locals, who plan to meet tonight at Longbeards,  are saying not so fast on beach re-nourishment funding.
A request by Mayor Rhodes and Chamber President Brad Dean concerning  $30 million for beach re-nourishment funding was made last week.
"It is simply unfair for these city leaders to continue to ask for handouts, and, arrogantly pile on beach access parking fees on locals' heads," said Sam Johnson – a local resident.   "I am sick and tired of these insiders working with government insiders,  begging for our tax dollars,  then telling us to hit the road when we ask them to simply let us park oceanfront," said Veril Anderson,  of the greater Conway, S.C. area.
Local and county residents plan to send D.C. a clear message –  No new beach re-nourishment until free parking is restored.
On September 21, Mayor John Rhodes and Myrtle Beach Chamber President Brad Dean joined with other Horry County leaders to visit with U.S. Senator Lindsey Graham, U.S. Senator Tim Scott, U.S. Representative Jim Clyburn, U.S. Representative Tom Rice, the House Appropriations staff, and the Army Corps of Engineers in Washington, DC to discuss the need for beach renourishment along the Grand Strand.
Accompanying Mayor Rhodes were Horry County Council Chairman Mark Lazarus, North Myrtle Beach Mayor Marilyn Hately, North Myrtle Beach City Manager Mike Mahaney, Horry County Administrator Chris Eldridge, Myrtle Beach City Manager John Pedersen, Horry County Assistant Administrator Justin Powell, Myrtle Beach Area Chamber of Commerce President & CEO Brad Dean, Director of South Carolina Parks Recreation & Tourism Duane Parrish, Warwick Group Consultants President Howard Marlowe, and former U.S. Representative John Napier.
The group reviewed the history of 10-year federal beach re-nourishment projects along the Grand Strand; discussed the damage that continued beach erosion could do to the Grand Strand's $7.4 billion tourism industry, which supports 81,000 jobs mostly low wage jobs; and requested that the 2018 Federal Budget, now being developed, include the federal share of the scheduled 2018 Grand Strand beach re-nourishment project.
The group also stressed that property abutting the dune line along the Grand Strand, which is protected and enhanced through beach renourishment, is worth more than $3.5 billion. Over the past several years, the dune line has been severely compromised in some locations and areas behind the dune line have been flooded, such as in Cherry Grove.
Specifically, the group asked for funding for all sections of Grand Strand beaches for the scheduled but currently unfunded 2018 federal beach re-nourishment project. The State of South Carolina has already appropriated $30 million for its share of the project. The cities of North Myrtle Beach and Myrtle Beach, and Horry County, have committed to having their shares of project funding in place when the federal share of funding is made available.
Related articles across the web
Comments
comments