Members of the Sandridge community packed Horry County Council last night. Community leaders addressed council about the proposed Conway perimeter road project.
The four lane projected road connects Highway 378 just before the city of Conway to Highway 701. Highway 701 then runs into Highway 501 bypassing the city of Conway altogether.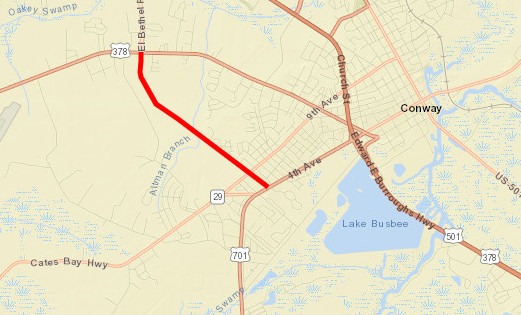 The route, which is part of RIDE III, has a proposed path and four alternates. Sandridge residents say the alternates would force the demolition of homes, churches, and cemeteries.
"If that should happen, our community would be destroyed," Cedric Blaine-Spain told County Council.
On November 8, 2016, sixty nine (69%) percent of tallied voters approved the penny sales tax to fund some 20 road improvement projects in the county.
"Horry County voters have spoken loud and clear, saying 'we want more roads and better roads,'" stated Brad Dean, then president and CEO of the Myrtle Beach Area Chamber of Commerce.
NOT THIS ROAD, Says Sandridge
Blaine-Spain said his community represents more than 3 night Myrtle Beach tourists. "We are year round tax payers," he said. "It shouldn't be an either or," added Cedric Blaine-Spain to a rousing applause from those attending.
A growing anti-development movement is taking shape in Horry County. Horry County grew at 24% in 2018. Horry County is the fastest growing county in the state.
Residents say over development too often ignores issues that affect current residents, like flooding.
County Council Chairman Johnny Gardner said he and staff would "look into" the issue.
Comments
comments