Viral Video Diner Has Extensive Rap Sheet With Assault Arrest Record
James Lee Owens had more than his fifteen minutes of fame this week as he became featured in a viral video seen by more than 66 million people on Facebook.   The video went viral once posted online.
WHILE LOCAL POLICE WERE WELL ACQUAINTED WITH OWENS AND HIS TROUBLED PAST,  UNFORTUNATELY, MYRTLE BEACH CURRENTLY HAS NO VIRAL VIDEO RAPID RESPONSE TEAM IN PLACE TO ALERT TOURISTS AND LOCALS ON THE FULL DETAILS OF SUCH INCIDENTS AS THESE.
POLICE WERE CALLED BEFORE MR. OWENS' MEAL WAS ORDERED.
In checking with local merchants and local police records, MyrtleBeachSC.com has learned Mr. Owens does have a long and extensive arrest record.  Mr. Owens is well known for public intoxication and his past aggressive behavior towards police officers.  Repeated arrests extend as far back as 2008 until this most recent period. At times, Mr. Owens has assaulted officers while intoxicated.
On March 21, 2012 TV Station WMBFnews reported:
An arrest report provided by Myrtle Beach Police states that officers responded to 6th Avenue North in Myrtle Beach around 4:35 p.m. Monday afternoon to find an intoxicated, older male suspect on the ground refusing to go inside who later became aggressive with officers and neighbors.
While in handcuffs, the report states that Mr. Owens bit one of the officers on the leg.
The two other responding officers then escorted Mr. Owens to the patrol car when he reportedly began kicking them. Once he was placed in the car, he began kicking the windows in the vehicle.
In checking Horry County records, we were appalled at how extensive Owens' rap sheet actually was.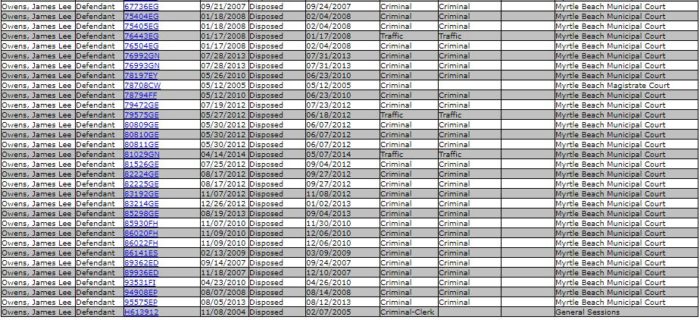 MyrtleBeachSC.com spoke with several key city officials, off the record, who indicated they were researching what action steps would be necessary to implement a viral video rapid response communications team so the city can get the complete story out to tourists and locals in real time.
An official with the 22nd Avenue McDonalds informed MyrtleBeachSC.com that the restaurant called Myrtle Beach police about Mr. Owens' behavior well before he entered the restaurant and before his meal was purchased.  A check of local police records confirmed this information as accurate.
Comments
comments