A Federal judge heard the case yesterday concerning a 23 mile traffic loop featuring Ocean Boulevard barricades imposed by the city of Myrtle Beach during Black Bike week. The event is held annually during Memorial Day weekend.
The NAACP sued the city concerning the barricades and the traffic loop. The case was heard in Greenville, S.C. Questions are now being asked if the court case centers more on politics than justice.
[cp_popup display="inline" style_id="46400" step_id = "1"][/cp_popup]
MYRTLE BEACH HIGH DRAMA CONTINUES
Politico magazine famously stated in a 2017 article: "All politics is local," was famously Tip O'Neill's favorite saying. Today, in the Age of Trump, all is politics.
The lack of a case decision, coupled with the coming May event, leave concerns in the air for the Judicial System. Myrtle Beach City Manager, John Pedersen, and Myrtle Beach police continue to argue that the barricades and the traffic loop create greater safety for downtown Myrtle Beach.
Meanwhile, last month, an email was leaked to MyrtleBeachSC.com which lead to information that the City of Myrtle Beach had cut a deal with local business owners to NOT install barricades Summer 2018 if the merchants required employees to wear lanyards inside their businesses.
Members of the NAACP asked MyrtleBeachSC.com, "If such an arrangement can be used to explain away the barricades for merchants, why do those same rules not apply for the Memorial Day weekend event?"
Black Bike Week Myrtle Beach Comments By Law Enforcement
Joey Crosby of the Myrtle Beach Police Department made an official statement on behalf of the city. "As an organization, we will continue to move forward with the operational plan as well as collaborating with the officers in Grand Strand…to ensure a greater and safer environment for our participants, locals and visitors. If anyone is seeking information concerning the festival, they can visit our website. As well as Beachbikeweek.info," said Captain Joey Crosby of the Myrtle Beach Police Department.
While the case was heard in Federal Court in Greenville, S.C., many Federal judges are appointed up from previously serving in state court systems.
Greenville Police Sgt. Ed Irick told WYFF Channel 4 Greenville News:
"This will be our fourth year assisting MBPD with the Memorial Day Bike Fest. We provide additional manpower during the event to assist MBPD and Horry County with the large crowds, calls for service and traffic concerns. Most of our officers are assigned to teams of 5-10 officers covering 1-2 blocks on Ocean Blvd; however, some are assigned to specialty units (i.e.- traffic), while others are assigned to patrol units of MBPD. We serve merely to assist the MBPD as their manpower is stretched thin during the event. This year we are sending 26 officers."
WHY NO DECISION?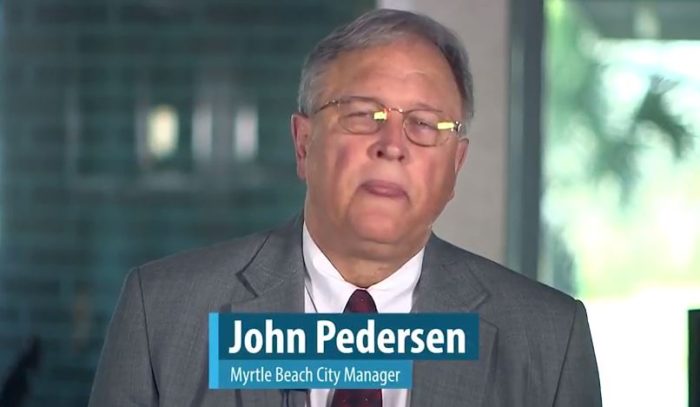 After yesterday's lack of a court ruling, local activists are asking on social why delay the decision? Myrtle Beach locals are aware there is scarcely a demarcation line between the city of Myrtle Beach and the Myrtle Beach Area Chamber of Commerce (MBACC). The Myrtle Beach Area Chamber continues to be a strong advocate for keeping the barricades and the loop in place during the event. The MBACC goes as far as to claim they "Protect" the city of Myrtle Beach with no qualms from anyone in city government about such claims.
In October of last year, the S.C. Supreme Court heard the MBACC related case on whether the MBACC should be subject to FOIA, as they receive over $38 million in tax monies. S.C. law dictates that "not for profits" who receive tax monies are subject to FOIA. However, MBACC is asking for a special exception. The case was heard in October and the courts still have not ruled as of May.
Delays like these cause many in S.C. to believe the courts are now as political as all other branches of government.
MBACC spends hundreds of thousands of dollars through its PACs to get State Legislators elected. Those legislators then pick our Supreme Court justices. S.C. remains one of the few states in the nation to employ these practices which many government watchdogs question.
The SC Policy Council Reports:
Just how unusual is South Carolina's judicial appointment system?
South Carolina is one of only two states in the nation (the other is Virginia) in which the legislature controls both the nominating and appointment process of state judges.
We are one of two states (the other is Tennessee) with a judicial nominating committee appointed solely by the legislature.
Only one other state (Virginia) appoints judges to both the Supreme Court and Court of Appeals by legislative appointment.
South Carolina is the only state in which the legislature has sole appointment powers for an unexpired judicial term.
To illustrate the unique dominance South Carolina's General Assembly holds over the judicial appointment process, consider:
Forty-seven states allow the governor to participate in some fashion in filling unexpired terms.
Twenty-six states allow the governor to participate in full term appointments.
Five states allow their governor to participate in methods of retention of judges.
But there is another oddity about South Carolina's judicial selection system that deserves attention.
Once a judicial candidate has been approved by the ten-member, legislatively dominated Commission, he or she goes on to a joint session of House and Senate for a majority vote. It's not simply and up-or-down vote on one candidate, however; it's a vote from among two or three candidates. The Judicial Merit Selection Commission is required to nominate up to three qualified candidates for each position (assuming there are three qualified applicants).
If they want the job, therefore, judicial nominees must curry favor with legislators in order to secure the requisite number of votes. Accordingly, in the run-up to a judicial election, one can see candidates for judgeships in the Statehouse garage lined up to shake hands with lawmakers as they enter the building – an unusual spectacle that captures the relationship between the state's legislature and judiciary. Lawmakers, for their part, have in the past been quite open about the fact that they've got to "get to know" candidates before they'll support their candidacies.
What this means, in effect, is that by the time a judicial nominee becomes a judge in South Carolina, he or she is personally and professionally beholden to state lawmakers in unhealthy ways. Can judicial independence really exist in such a system? The fact that the question can be seriously asked is a problem.
Realizing the power MBACC has over picking State Politicians, practically all MyrtleBeachSC.com readers are aware of the conflicts.
Comments
comments