A local development group is requesting rezoning approval of an area of Little River Neck Road adjacent to Waites Island. The land is currently zoned Scenic & Conservation. The request is on the agenda for this week's Horry County Planning Commission meeting, scheduled for January 5, 2023.
The developer desires to build "7,000 square foot home lots" on a new development called "The Bluffs at Cherry Grove Beach". They are requesting Horry County re-designate the area from Scenic & Conservation to a "Suburban" designation. Readers can find the rezoning request up for consideration here starting on page: 69: https://horrycounty.granicus.com/DocumentViewer.phpfile=horrycounty_923e26ad35c4c5a9071fe923e3a99dc9.pdf&view=1
The land was acquired on June 8, 2022 for $2.5 million by The Bluffs At Cherry Grove, LLC, who's agent is the Neill Law Firm, PA at 1727 Glenns Bay Road Myrtle Beach, South Carolina 29575
Incoming Horry County Councilwoman and her husband, Jenna and Curtis Dukes, purchased 7.74 acres of the access road on January 30, 2020 for $230,000.00. This land is held in their company's corporate name, J.C.D. Coastal Holdings, LLC.
Jenna Dukes beat incumbent Horry County Councilman Harold Worley in the June Republican primary. Her race was heavily funded and supported by Benjy Hardee, of Hardee Construction. She takes office January 3rd.
J.C.D. Holdings (The Dukes) purchased the land from Little River Holdings, LLC. In 1995, the land was purchased by Little River Holdings for $1 from the Coastal Education Foundation.
Founded in 2006, this company is believed to be a front for a large Little River developer. The registered agent is a Thomas R. Davis with a listed office located at 104 Inlet Point, Cross Hill, South Carolina 29332. This location is a lakefront property with homes listed on par at around $1 million per home.
IMPLICATIONS OF THIS CHANGE
The Future Land Use designation of the entire Waites Island area is currently Scenic & Conservation. This exact same parcel was also considered for a rezoning in Dec 2020 for 6000 square foot lots, but it was recommended for disapproval and withdrawn. They're trying again, now with a newly elected Horry County Council member who owns the adjacent property.
"OLE SWAMPY" OWNS MUCH OF WAITES ISLAND AS WELL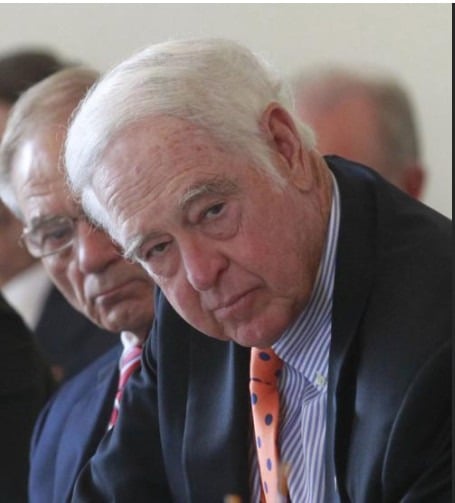 Despite a $500,000 donation from Google to preserve Waites Island, the developers persist.
We covered William Goodwin Jr.'s desire to develop his significant Riverstone Corporation holdings on Waites Island here, here, and here. We tied those holdings directly back to now former U.S. Congressman Tom Rice. Rice is also a former Chairman of Horry County Council.
William H. Goodwin Jr. owns Kiawah Island, (not a hotel on Kiawah Island), but rather the entire island. He is the 3rd richest man in Virginia.
Should this rezoning be allowed, a beach head will be created to justify "Ole Swampy" and his partners to make those same rezoning requests.
J.C.D. Holdings Land Purchase History
Comments
comments