A Supreme Court hearing held at Coastal Carolina University could entirely redefine small business capitalism and democracy throughout S.C.
The City of Myrtle Beach's Entertainment Overlay District, which bans the sale of CBD, tobacco, and vape products on certain parts of Ocean Blvd. went into effect Jan. 1, 2019.
The overlay district runs from 16th Avenue North to Sixth Avenue South, banning the sale of legal products in only that one area of the city. The S.C. Supreme Court will decide if the ban is legal.
"My employees have to watch their friends in the store across the street sell the same items that they're not allowed to sell," local merchant Tuvia Wilkes said. "Everyone is confused why you can sell on the corner of one block, but on the other corner you can't."
If the S.C. Supreme Court upholds this ban, democracy and capitalism will forever be redefined. Coca Cola products can be banned in certain areas of any cities in S.C. Pepsi could be banned in other areas. The same is true for any legal product sold in the state.
Every product will be at the mercy of every local municipality's whims.
INCREMENTALLY AND FUNDAMENTALLY CHANGING AMERICA
The Iron Triangle has been operating throughout America, and especially in Myrtle Beach, S.C. for more than a decade.
The model shows how lobbying from groups, like the $54 million tax funded Myrtle Beach Area Chamber of Commerce' PACs, influences bureaucrats and regulators. Those bureaucrats and their "expert government hires" then suggest policies that influence the S.C. General Assembly.
Simultaneously, the lobbying group also lobbies the S.C. General Assembly in what can only be called a "full court press."
Dollars then flow back to the lobbying group in the form of tax funded advertising initiatives.
Laws are written with goals that specifically benefit the lobby group and its allies.
Portions of those dollars are then returned to the campaign coffers of congressional candidates, with MBACC employing various methods to legally move those funds.
From Pfizer, to Big Tech, to Myrtle Beach, the Iron Triangle is fundamentally changing America into something entirely new.
CASE IN POINT
Two powerful Myrtle Beach Area Chamber of Commerce members, Burroughs and Chapin, as well as, The Brittain (MBN) family owned toxic golf course assets. All of these assets were sold to Chinese operative Dan Liu of Yiqian Funding after Myrtle Beach Area Chamber of Commerce President Brad Dean, then Horry County Council Chairman Mark Lazarus, and then Mayor John Rhodes (deceased) made trips abroad to China.
FROM WBTW – 7 YEARS AGO YESTERDAY: Mark Lazarus, John Rhodes, and the Myrtle Beach Area Chamber:
Feb. 5, 2016: In a press conference held Friday by Myrtle Beach Mayor John Rhodes, the city announced that it has an $80-$100 million commitment from a Chinese Cultural Theme Park, similar to Epcot, to begin building in the fall.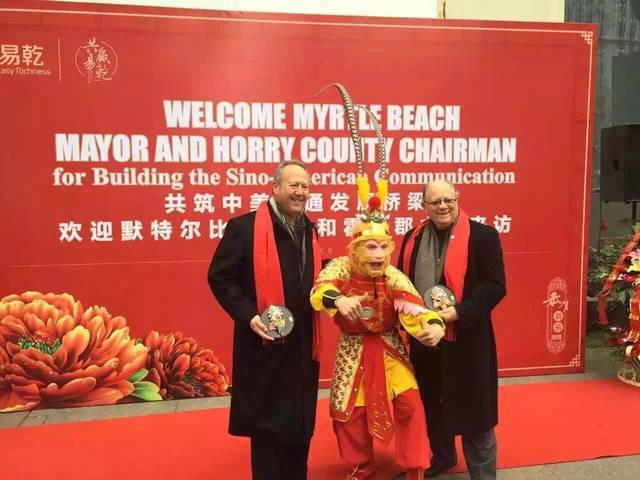 "It'll be like an Epcot Center except all if you really want to look at. There will be a lot of food and dining and shows and events taking place," Horry County Chairman Mark Lazarus said.
"We want to try to educate people on the culture of China and also have an opportunity to have classes where young kids can start to learn how to read Mandarin. Mandarin is almost like an art and I think it'll be very easy for them to pick up, we need to get our school system to start teaching Mandarin. They're already doing that in Rock Hill. They're doing it in Charlotte. They realize what's going to happen down the road and I think it's time for Horry County to look at doing the same thing in their school system," Mayor Rhodes said.
While Rhodes did not specify where exactly the theme park would be built, he did note that city leaders have locations in mind to show Chinese investors when they make the trip to Myrtle Beach in April. In addition, a local contractor has been contacted to help with the design of the park, adds Rhodes.
Also at the press conference was Horry County Council Chairman Mark Lazarus, who accompanied Rhodes on a recent business trip to China. The 16 day trip, made in late January, was at the request of China investors, Rhodes reported to News13 before leaving for the trip.
An agenda for the trip obtained by News13 had Rhodes and Lazarus scheduled to visit several different cities. The agenda also mentioned the Chinese government's interest in growing tourism and opportunities for investment in the Myrtle Beach area, as well as intentions to grow Chinese culture through the [Myrtle Beach Area] chamber of commerce.
Rhodes and Lazarus returned from the China trip February 5 and made the $100 million investment announcement Friday afternoon.
NOW THIS PAST SATURDAY: SURFSIDE BEACH
Chinese Spy Balloon shot down over Surfside Beach
U.S military aircraft shoot down the Chinese surveillance balloon near Myrtle Beach SC. pic.twitter.com/bDbrkBelw0

— Breaking Aviation News & Videos (@aviationbrk) February 4, 2023
Perhaps, what comes around, goes around.
Comments
comments