Scroll to the bottom of this article to see WHO OWNS HEATHER AMMONS CRAWFORD'S CAMPAIGN PAGE?
S.C. Representative Heather Ammons Crawford and Representative Alan Clemmons are close allies in the S.C. General Assembly. Clemmons is widely considered Crawford's life-long political mentor.
On the very same day Clemmons announced he applied for the job of 15th Circuit Public Defender, Heather Ammons-Crawford came out swinging.
Crawford referenced what she called 'DARK MONEY" from a South Carolina activist group known as the Freedom Action Network (FAN).
The Freedom Action Network is a local, S.C. "not for profit." The group does S.C. state-wide activism. I (David Hucks) regularly appear on their Watercooler Wednesdays Facebook Live-Stream.
I spoke with FAN about the attack early this morning. Said Dave Schwartz of the Freedom Action Network, "The real question for Heather: why did she vote for a creepy data warehouse that will track my kids through school and beyond?  Why did she vote for this bill that puts our personal, private information at risk?It's creepy, dangerous and just plain un-American."
Heather Ammons Crawford also voted for the 12 cents per gallon gas tax.
Both votes by Crawford worked to expand and grow the bureaucratic state in ways that are concerning. The rapid growth of the bureaucratic state is an issue MyrtleBeachSC news raises concerns about ongoing.
Below is an article published by the S.C. Policy Council on the troubling Data Warehouse. And, even further below, is the troubling issues on how the gas tax (voted for by Heather Ammons Crawford) enriches one powerful state senator.
Contrary to Crawford's online statements, the FREEDOM ACTION NETWORK does not endorse, nor support any individual candidates running for office.
What the Data Warehouse Could Mean for You
Posted by South Carolina Policy Council on Friday, September 28, 2018 ·
The new data warehouse – created by last year's law and this year's budget proviso – poses serious threats to the privacy of South Carolinians, especially if lawmakers override the Governor's veto of the budget proviso containing the details of how the data warehouse would operate.
According to the proviso, the intent behind the data warehouse is the "coordination and continuity of the workforce delivery system" – which, assumably, refers to the state's public education system. The ultimate goal is to help "prepare the state's current and emerging workforce to meet the needs of the state's economy."
Here's an overview of what the laws would allow, who could access your data, and what you can do about it.
Who would collect your data?
The data warehouse, which would be owned and operated by the Revenue and Fiscal Affairs Office (RFA), would store individual data, defined as "person-level data that is created received and/or maintained by state agencies and other entities required to report individual information to RFA (emphasis added)."
State agencies routinely collect a wide variety of personal, individual information in the course of providing government services. These are the agencies specifically included in the data warehouse, and the types of data they collect:
Office of First Steps to School Readiness (SC First Steps)
This agency funds pre-kindergarten through local schools (public, private and faith-based) for low-income families. SC First Steps individually approves each student, and the eligibility verifications include proofs of residence, income, and social security cards, etc.
Department of Education
The Department of Education tracks everything from family income level and student health records to grades, attendance, and behavioral issues.
Department of Social Services
This department administers the Child Protective Services, the child support system, and assistance programs such as the Supplemental Nutrition Assistance Program (food stamps) and a childcare voucher program for low-income families.
Higher education entities
The Technical College System, Commission on Higher Education, and individual public colleges and universities all have access to a trove of individual higher education data such as grades, test scores and course selection, and all are required to participate in the data warehouse.
Department of Employment and Workforce
This agency administers unemployment benefits and maintains an online jobs database for individuals and businesses, giving the agency access to a host of individual and business-level employment information.
Department of Commerce
As the state's primary economic development arm, this agency recruits businesses through taxpayer-funded incentives. As such, the Department of Commerce's role in the data warehouse would likely center on utilization of the education and workforce data from all the above agencies for the benefit of potential employers.
Who COULD collect your data?
Data collection is not limited to a specified list of agencies. The proviso would allow any other state agency to be brought into the data warehouse. Here are several examples of data types collected by other state agencies:
Department of Public Safety – traffic violations and tickets
Department of Motor Vehicles – vehicles owned, organ donors, driving history
State Election Commission – voting history, jury duty
State Law Enforcement Division – concealed weapons permit holders, criminal records
Department of Health and Environmental Control – inspection reports, complaints and appeals, properties owned, permits issued
Department of Labor, Licensing and Regulation – occupational licenses issued and revoked
Local governments – property tax information
Bringing data from any of these additional entities into the data warehouse would be at the discretion of three unaccountable boards:
The Board of Economic Advisors – a legislatively controlled board which governs the RFA
The Coordinating Council for Workforce Development (CCWD) – a conglomeration of agency heads and education officials tasked by state law with working to "prepare the state's current and emerging workforce to meet the needs of the state's economy"
The Workforce and Education Data Oversight Committee (WEDOC) – a new board created by the proviso with an almost identical composition to the CCWD
In summation, the proviso is written in a way that would enable government officials to take whatever data they want for the new data warehouse. It should also be noted that a healthcare data warehouse which collects information from the state's healthcare agencies already exists within the RFA.
How protected would your privacy be?
Nothing in this proviso would allow any citizen to opt out or even require that they be informed that their data is being compiled into a centralized data warehouse. Citizens' information would be vulnerable to:
Third-party sales – the proviso specifically allows RFA to enter into "transactions" with any private individual, corporation, firm, etc. to provide "statistical, research and information dissemination services" – with no prohibition on what those third parties could do with individuals' data.
Lawmakers and their staff – lawmakers would be specifically given access to the data query tools, along with their staff.
Federal and state agencies – RFA could also enter into transactions with federal agencies, as well as local governments and any other public institutions. State agencies, in particular, would be given direct access.
The only restriction on how the data could be used by these entities would be determined by "memorandums of agreement" developed between the RFA and the agency supplying the data set in question. These memorandums would set the terms for data disclosure and usage, and the proviso's only requirement is that they comply with any existing state and federal statutes and regulations on data confidentiality – not that the privacy of the individuals in question be protected.
While the proviso does specify that individual data or identifying information could not be released, this term is not defined and does not restrict governmental access to the query tools. Moreover, identifying individuals based on demographic characteristics rather than identifying information is relatively simple, making the privacy "protections" virtually meaningless.
Who would have ultimate oversight?
The only oversight for the data warehouse would come from two boards that citizens cannot hold accountable.
The RFA, which would house, control and regulate the data warehouse, is controlled by legislative leadership. Specifically, it is governed by the Board of Economic Advisors – a three-member board appointed by the Senate Finance Committee chairman, the House Ways and Means Committee chairman, and the Governor.
The RFA's only oversight for data warehouse decisions would come from the WEDOC – an unaccountable board of agency heads and education officials.
Lawmakers are citizens' only leverage point for citizens concerned about the risks to their privacy with this data warehouse. Next week, every Representative and Senator will vote on whether to uphold the Governor's veto of this proviso. However, the proviso is only one element of the data warehouse system: last year's law mandating the creation of the data warehouse is still in place, as is the funding for it contained in this year's budget (which was not vetoed by the Governor).
Every aspect of this system was put in place by the General Assembly, and citizens' only chance at overturning it lies in demanding that their lawmakers dismantle every aspect of this systematic intrusion into personal privacy for the benefit of government planners
HUGH LEATHERMAN AND THE GAS TAX "ENRICHMENT" VOTE
In an April 9, 2020 expose, The Post and Courier explains how the gas tax among other slush fund creations, have enriched and empowered S.C. Senator Hugh Leatherman.
The article reads: Hugh Leatherman, who turns 89 on Tuesday, has been a force behind the scenes for years, pulling the strings of state government to influence everything from how much South Carolinians pay for gas and college tuition to which roads get paved and whose projects get funded. 
Since orchestrating the 2001 Republican takeover of the Senate that put him in charge of its budget-writing committee, Leatherman has acquired positions on a series of lesser-known boards and committees that control agencies' ability to borrow and spend money for specific projects.
He has leveraged those positions to become a political rainmaker at the Statehouse, directing roadwork, negotiating tax deals to bring major companies to South Carolina and distributing tens of millions of dollars in grants for local projects to fellow senators like candy. Senators and state officials who must come before Leatherman for that money have learned to hop on board with his agenda or risk being left behind.
Though he is elected by only a tiny fraction of South Carolina's population, Leatherman's fingerprints are on billions of dollars in state spending every year.
"Nothing of importance happens in South Carolina without his approval," said state Treasurer Curtis Loftis, one of more than two dozen people interviewed for this story.
Leatherman's influence also has come with scrutiny of his business dealings with the state, including tens of millions of dollars in S.C. Department of Transportation contracts for a concrete business he founded and that still pays him a salary.
"He's a representation of how South Carolina has been run and is still run," said Dana Beach, the former director of the Coastal Conservation League.
WHO OWNS HEATHER AMMONS CRAWFORD'S CAMPAIGN PAGE?
In its PAGE TRANSPARENCY policies, Facebook now requires political page owners to list the name of who exactly owns the page.
Heather's Page Transparency
Representative Crawford's page is notoriously owned by Starboard Communications. This firm's history is marked by the leadership and ownership of Walter Whetsell.
If you follow our articles that name may ring a bell.
In November 2017, MyrtleBeachSC news reported: Records turned over to Special Prosecutor David Pascoe's state-wide corruption investigation and the FBI now show that Tom Rice's political consultant, Walter Whetsell, was paid $24,935.66 in TDF (tourist tax) monies in 2011.
The TDF is a law written by Rep. Alan Clemmons over a decade ago, to ensure that over $24 million in taxes are paid annually to the Myrtle Beach Area Chamber of Commerce. Those TDF funds are required by law to be used for tourism advertising.
How did Representative Heather Ammons Crawford's Campaign Facebook page owner end up with almost $25,000 of these tourism advertising dollars? Dark money indeed.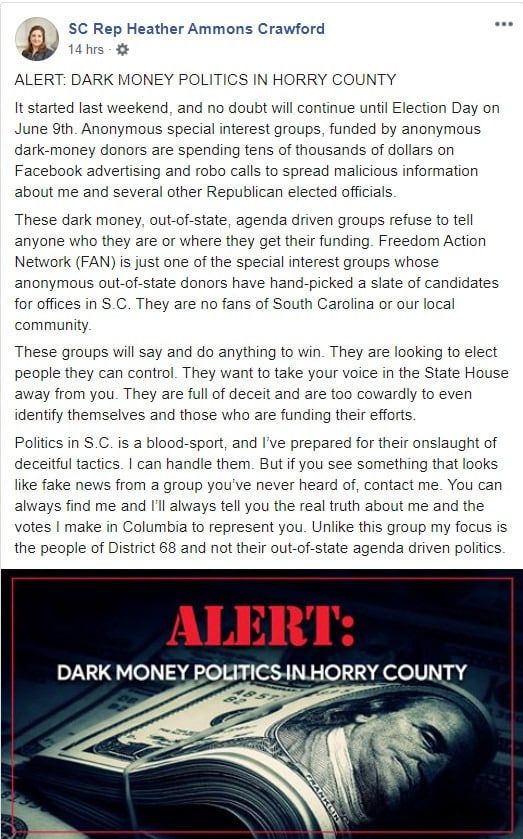 Comments
comments