Tin Roof features live music this weekend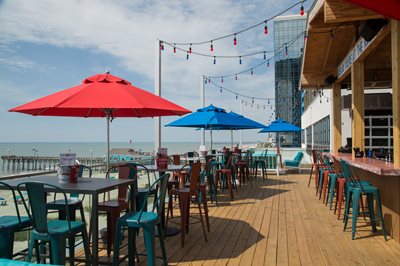 Enjoy an end of Summer oceanfront night of music this weekend at The Tin Roof in Myrtle Beach.
Tin Roof is about giving musicians a place to play and and a place to hang when they aren't onstage.  The fun, eclectic environment, community of regulars, and friendly crew have established the Roof as the place to be for musicians and non-musicans alike. Over the years, our stages have hosted the famous, the should have been famous, and everyone in between!
LOCATION & DIRECTIONS
The restaurant & bar is located at 1410 North Ocean Blvd overlooking the world famous Myrtle Beach Boardwalk & the Atlantic Ocean featuring 3 full bars, a stage for live music, and an open air rooftop patio! Located inside the newly opened BLVD building on the top (3rd) level with the best ocean views of the Grand Strand….just take the elevator up to the 3rd floor and enjoy! 
LIVE MUSIC & ENTERTAINMENT
There's always something happening at the Roof! Weekend nights feature some of the country's best bands playing your favorite songs live to keep the dance floor rockin' until last call while a DJ spins dance tunes in our Green Room…two sides of entertainment for one amazing night!
Weeknights feature acoustic tunes during dinner with a mix of local, regional & touring acts at night with occasional DJ's on the rooftop patio. Over the years, we've hosted many musicians that have gone on to sell out arenas & stadiums….you never know who you'll see or who they'll become so don't miss a night! Check out our events & entertainment calendar here
SOUTHERN INSPIRED 'BETTER THAN BAR FOOD'
Music isn't all they do, their Chefs also rock! Try the amazing made from scratch Southern inspired 'Better Than Bar Food' today.   Menu highlights include Nashville Hot Chicken, Fish Tacos & more! FULL MENU
Whether you're coming for the tunes, the food, a drink or just a good time, enjoy the Roof 'Where Everybody is Somebody'! Support live music and the musicians that bring it to us, and we'll hope to see ya enough to call you a Regular!
Open daily 11 AM-Late Night – 1410 North Ocean in Blvd Myrtle Beach
FOOD, DRINKS & LIVE MUSIC WITH AMAZING VIEWS FROM LUNCH TO LATE NIGHT!
Comments
comments