With Slow Recovery, Fights With Merchants, Collusion Questions, Will Incumbents Run?
Last October, Wall Street named The City of Myrtle Beach as "Top 25 Cities Not Recovered From Recession". We covered that here: https://myrtlebeachsc.com/myrtle-beach-ranks-in-top-25-cities-not-recovered-from-recession/
The downtown area has been called a war-zone for the past decade.
Homeless vagrants, drug dealers, and prostitutes roam the streets of Chester, Flagg, and Yaupon.
The City's "Big Government" approach to downtown redevelopment has scores of merchants now suing the city.
The relationship between what the 15th circuit court calls Crony Companies, the City of Myrtle Beach, and the Myrtle Beach Area Chamber [MBACC] resulted in a lawsuit for MBACC and the city. Meanwhile neither Jeffcoat, Chestnut, nor Render are willing to reveal who actually owns those crony companies. Yet checks to those insider companies continue. Checks continue to be paid in the millions.
After ongoing, front page MBACC embarrassing news articles, these same three city councilmen had the gall to renew the Tourist Tax for 10 more years without a resident vote.
Oak Street, In Front Of Where City Council Meets, Named Brad Dean Way. Dean was the former C.E.O of the Chamber who set the crony companies in place and funneled over $100 million of tax payer monies to those companies.
Mike Chestnut, Mary Jeffcoat, and Phil Render are up for re-election this Fall. Local politicos tell MyrtleBeachSC news that each are likely to run. Odds-makers say, despite all of the above, each still has a strong chance to win.
Certainly the PACs associated with MBACC will reward these three for their votes to extend the Tourist Tax into 2029. MBACC Associated PAC, the GRAND STRAND BUSINESS ALLIANCE can spend millions on their campaigns should it choose to do so.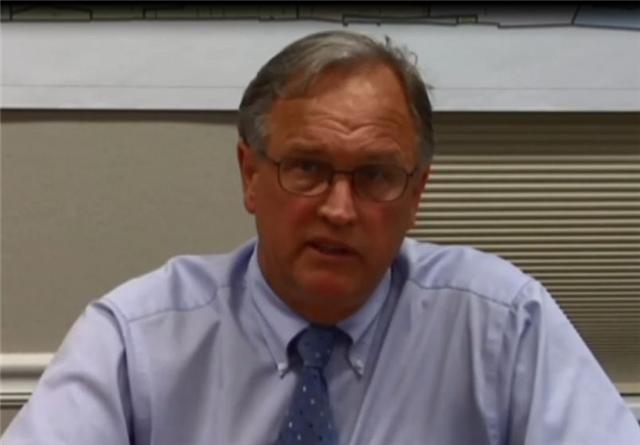 John Pedersen, City Manager, Disliked By Locals
In fact, their biggest Achilles heel, is City Manager John Pedersen. He is considered a big government, heavy-handed, collusionist City Manager. Merchants say he overtly picks winners and losers in downtown Myrtle Beach. They tell us he uses city government staff to harass the businesses he wants run out of town. Using city police, ad-hoc zoning changes, and city services, Pedersen is the force behind driving scores of merchants out of business. These former merchants' properties are then scooped up by either the city, a high level member of the DRC, or a city favored insider. Often these properties are purchased at bargain basement prices with owner financing.
He recently banned any new CBD oil and related shops from opening in Myrtle Beach until the city can do a "year long study". The city also banned the sale of these legal products on Ocean Boulevard. Existing Vape shops and existing CBD Oil businesses love moratoriums like these. It gives them a 100% advantage in the marketplace.
Despite all of the above, and little chance of Free Market changes inside the city, locals believe these three are actually favorites.
Comments
comments