After Commissioning New Study, City Manager's Competence Questioned
After several years of high profile missteps, and his single minded, personal focus on a big government fix for Myrtle Beach downtown re-development, merchants are now seriously considering approaching Mayor Brenda Bethune and City Hall demanding the resignation of City Manager John Pedersen.  A collective group of merchants believe he is heavy handed, duplicitous and unqualified for running local government.
This after the city manager recently called in the State Law Enforcement Division to help patrol local downtown beachwear stores on their sale of a legal product, CBD oils, during July 2018, their busiest summer season.  Read About This Here:
https://www.myrtlebeachonline.com/news/local/article214680290.html
This was a bridge too far for local media personality Mande Wilkes.  She went on the air this past week to discuss the heavy handed practices of the local bureaucrat who runs all things city government.  We covered that here:  https://myrtlebeachsc.com/mande-wilkes-big-beer-and-the-myrtle-beach-deep-city/
WHO DOES PEDERSEN WORK FOR?
Local merchants increasingly believe more and more so that Pedersen represents a handful of developers and hotel related families that control the DRC- Downtown Redevelopment Corporation.  The DRC is a quasi government/private organization that operates on funding from parking fees charged by the city.  These very parking fees keep many tourists from shopping in downtown sections of Myrtle Beach.
This week Myrtle Beach City Manager, John Pedersen, commissioned a new, [and latest] taxpayer funded study on downtown redevelopment.
"It's my belief that a community's reputation is either made or broken on the downtown," said City Manager John Pedersen.
Members of the Downtown Redevelopment Committee, of which Pedersen is the Treasurer,  introduced the two consultants on Wednesday who they said are going to help paint the picture of what the downtown area should look like.   The two consultants are with Bench Mark Planning.   The city (resident taxpayers) will pay the consultants $90,000 for the study.
"The consultants' job is to help city council develop a vision for the downtown to develop that blueprint: this is what we want it to look like, this is how we want to theme the downtown going forward.  They're going to look at the safety issues, they're going to look at the attractions, but they're going to look to make sure that it is the type of place they want to make that type of investment," said Pedersen.
CAN'T FIRE A BUREUACRAT?
Pedersen is a non-elected, big government, small town bureaucrat.  This elite class of non-elected politician is part of the very same group causing America problems in Washington, D.C.   We witnessed the arrogance of this non-elected class just this past month in the congressional hearings with FBI top brass Peter Strzok, another non-elected, life-long bureaucrat.
Before they were voted out of office last Fall,  former City Mayor John Rhodes and former City Councilman Randal Wallace privately met with a group of downtown merchants promising to fire Pedersen should they get re-elected.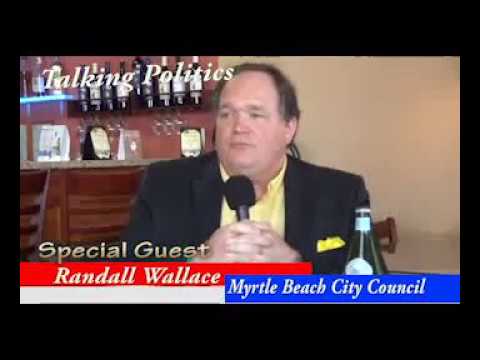 The details of those meetings never became public.   Pedersen, however, was rather given a "merit" raise by  these two former politicians on their last day in office.  This after they lost the election, each privately blaming Pedersen for much of their loss. Wallace and Rhodes were among the entire council who voted for that pay raise.
INCOMPETENCE AND HEAVY HANDED GOVERNMENT EXAMPLED
Heavy Handed – Not Business Friendly
In 2017,  Pedersen used barricades downtown as an excuse for curbing downtown crime.  Merchants claim the barricades did nothing to prevent crime,  but killed Summer business.  2017 Summer downtown business was, in fact, down.
This year,  Pedersen offered merchants a deal.  Wear business uniforms in their stores, in lieu of the city putting the barricades back on the boulevard once again.
We covered this very odd and almost unbelievable news item here:  https://myrtlebeachsc.com/myrtle-beach-police-chief-investigates-private-business-owners-employee-outfits/
After our story ran,  City Manager John Pedersen responded to us here:  https://myrtlebeachsc.com/2017-eminent-domain-2018-business-profiling/
WHERE IS CITY GOVERNMENT FOC– USED?  Merchants Say Incompetent
Meanwhile, one of the basic elements of running a city government,  sewer maintenance was mishandled by Pedersen.  Our number one feeder city, Charlotte, NC area news, covered the story here:   http://www.charlottestories.com/over-100000-gallons-of-raw-sewage-spilled-in-myrtle-beach/    The story made national news with national ABC, NBC, and Fox covering the item.
When 100,000 gallons of raw sewage was dumped in the ocean by Myrtle Beach City Government after a main sewer line broke,  all Horry County beaches were closed.  Ecoli ratings ran as high as 17,000.  Any rating over 104 is considered unsafe for swimming.
As to crime, local merchants consider that another basic function of city government.  However, the drip drip of national news on Myrtle Beach crime has only escalated in 2018.  The role of city government should be to address such.  Pedersen administrates city police.  Myrtle Beach has averaged more than 3 shootings a month this peak season.  Headlines that include forced prostitution stories and front line articles about a Myrtle Beach heroin epidemic  continue to dominate the narrative.
Storm-water issues are another area that merchants believe the city manager continues to neglect.  These storm-water problems have lead to beach bacteria spikes that also make ongoing national headlines.  While the city complained about those headlines this week here,  https://www.myrtlebeachonline.com/news/local/article213524834.html,  Pedersen refuses to ask the Mayor and City Council to issue approximately $250 million in bonds that would eliminate the stories and the problem altogether.
Instead,  the City Manager continues to focus on issues that include raising funds to build a Children's Museum and a city library downtown.
CLOCK IS TICKING
The chorus of calls for this City Manager's job are sure to only increase between now and the Myrtle Beach City Council elections of Fall 2019.  Left wing city council-woman Mary Jeffcoat is a huge Pedersen supporter.
Both Councilman Mike Chestnut and Councilman Phil Render, each up for re-election, voted for Pedersen's pay raise last Fall.
Comments
comments