"Buy Out" only covers 429 flood families county-wide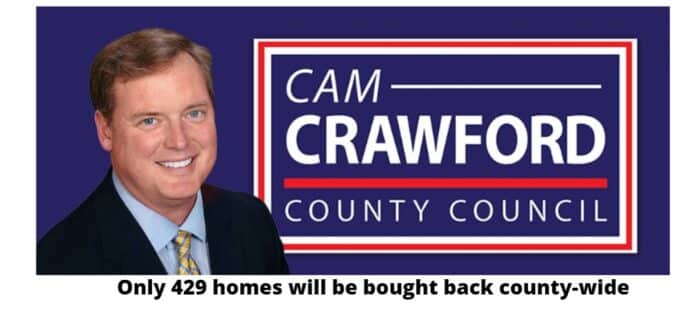 Information obtained by MyrtleBeachSC news from the South Carolina Disaster Recovery Office shows 9,188 families applied for FEMA flood assistance as of December 2019. This before all the recent flooding. New claims are being filed daily.
Of those who applied, only 2,592 were approved.
4,910 flood families applied for National Flood Insurance. 40 applied for small business loans.
Only 429 properties of flood families (county-wide) will be helped by the state through S.C. Disaster Recovery HUD buy backs. This in a county of 330,000 residents.
Horry County Councilman Cam Crawford promised flood families in Rosewood, and throughout Socastee, that "buy backs" are just ahead. Sadly, the numbers show that only 429 properties, out of 10,745 mitigants, can participate as of December.
Of the total disaster needs, Horry County currently has a 1,557 flood family property mitigation deficit.
Politicians love studies. Incumbent Cam Crawford's initiative is nothing more than another government study.
64% of those helped, and those to be helped, live in mobile homes.
Candidate Halpin Has A Plan
HALPIN'S PLAN Versus CRAWFORD'S STUDY
Jeremy Halpin has a plan that includes a task force. A task force can and will be held accountable by District 6 residents. A plan includes: Defined projects, A timeline, Costs and Benefits, and a responsible task force that voters can hold accountable.
Said Halpin, "We need a plan that will help us dry our streets and communities."
"We are averaging a flood every two years minimum. This can't continue. Working with Horry County Council Chairman Johnny Gardner, we will bring a plan that will also dry the tears of those who continue to suffer in District 6," added Halpin.
Comments
comments