Rev up your engines and get ready for a thrilling weekend as the Myrtle Beach Black Bikers are gearing up to take over the city! A number of Black Bikers have already arrived into the area. Over 300,000 historically visit Memorial Day Weekend.
With their roaring motorcycles, sleek leather jackets, and fierce camaraderie, these bikers will make sure that this year's Myrtle Beach Black Bike Week will be an unforgettable experience. From heart-pumping rides along scenic routes to lively parties and events, there's something in store for everyone at this much-awaited gathering of motorcycle enthusiasts. So hold on tight as we dive into all the exciting details of this epic event!
The City of Myrtle Beach, who has historically held a contentious relationship with the bikers, say they will not impose a one way traffic bike loop this weekend.
Who are the black bikers?
The black bikers are a group of African-American motorcycle riders who love the freedom and excitement that comes with riding. They come from all walks of life but share a common passion for motorcycles, brotherhood, and unity.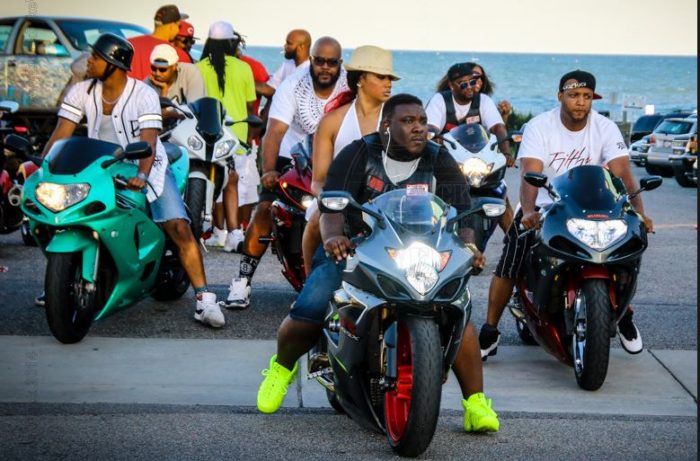 Black bikers come from all walks of life – lawyers, doctors, business owners, blue-collar workers – but they are united by their love of riding motorcycles. They have formed tight-knit communities that support each other both on and off the road.
These riders are known for their fierce sense of style. They often wear matching leather jackets adorned with patches representing their clubs or groups. These patches serve as symbols of pride and honor among fellow riders.
Black bikers have been around since the early days of motorcycling in America. Many were drawn to the thrill of speed and adventure during an era when segregation made it difficult for them to find other outlets for self-expression.
Today, black biker culture is thriving and has become an important part of motorcycle history. It's not just about riding motorcycles; it's about creating lasting bonds between like-minded individuals who share a deep respect for each other and the open road.
So whether you're new to the scene or a seasoned veteran, there's always room for one more rider in this tight-knit community!
What is the event?
Myrtle Beach Black Bike Week is an annual gathering of black bikers from all over America. This event is a celebration of freedom, individuality and diversity that takes place every Memorial Day weekend in Myrtle Beach, South Carolina.
During this 4-day long event, participants engage in various activities such as bike shows, live music performances, parties and street festivals. The streets of Myrtle Beach are filled with the sound of roaring engines as riders cruise up and down the coast showing off their motorcycles.
The main attraction during Black Bike Week is undoubtedly the Atlantic Beach Bikefest – a festival that has been taking place for over four decades. This festival features food vendors, entertainment stages and merchandise booths selling everything from biker gear to jewelry.
In addition to these events, many riders also participate in organized rides throughout the area including scenic coastal routes or charity rides supporting local organizations.
Myrtle Beach Black Bike Week offers a unique experience for motorcycle enthusiasts who want to connect with other like-minded individuals while enjoying all that Myrtle beach has to offer.
When is the event?
The Myrtle Beach Black Bike Week is an annual event that takes place on the Memorial Day weekend. This year, it falls on May 26th to May 30th, with most of the activities happening during Saturday and Sunday. The event historically brings in over 350,000 black bikers into the City of Myrtle Beach. The City of Myrtle Beach is one of the top minority beach destinations in America.
For those who are planning to attend, it's good to note that this event has been known to attract a large crowd. So booking accommodations in advance is highly recommended.
While the main events happen at several locations throughout Myrtle Beach, many riders can be seen cruising along Ocean Boulevard or visiting local bars and restaurants.
Additionally, there will also be various events such as bike shows and live music performances by well-known artists scheduled throughout the entire weekend.
It's worth mentioning that safety should always be a top priority when attending any large gathering like this one. It's essential to adhere to traffic rules, wear appropriate protective gear while riding motorcycles and avoid drinking alcohol before getting behind the wheel.
So mark your calendars for Memorial Day Weekend because you don't want to miss out on one of North America's biggest motorcycle rallies!
Where is the event?
Myrtle Beach Black Bike Week is one of the most popular events for motorcycle enthusiasts in the United States. This event, also known as Atlantic Beach Memorial Day Bikefest, takes place every year over Memorial Day weekend on the sandy beaches of Myrtle Beach.
The event attracts riders from all over the country who come to enjoy a weekend full of music, food, and fun with like-minded individuals. The beautiful location provides an ideal backdrop for a biker gathering where attendees can cruise along Ocean Boulevard while taking in scenic ocean views.
While there are many activities available throughout this long weekend, much of it revolves around riding your bike through different routes and locations. Many bikers participate in organized rides to local restaurants or bars where they can socialize with fellow bikers.
This exciting event has been held annually since 1980 and continues to grow each year. With thousands expected to attend again this year, it's sure to be another unforgettable experience for those who love motorcycles and beach life!
How many people are expected to attend?
Myrtle Beach Black Bike Week is an event that has been growing in popularity over the years, and as a result, it's difficult to predict exactly how many people will attend. In general, the event attracts tens of thousands of visitors each year.
There are many factors that contribute to the number of attendees at Myrtle Beach Black Bike Week. One major factor is the wide variety of events that take place during the weekend. From parties to bike shows and everything in between, there's something for everyone.
Despite previous conflicts with elected officials at the City of Myrtle Beach, this year's event is expected to bring over 300,000 bikers to the city.
One contributing factor is the location itself. Myrtle Beach is a popular vacation spot for people all over the country, so it's not just bikers who come to town for this event. Because the event falls on Memorial Day Weekend, many families and other groups also plan their vacations around this weekend.
In recent years, there have been some concerns about crowd control and public safety during Myrtle Beach Black Bike Week. As a result, some local officials have put measures in place to limit attendance or restrict certain activities during the weekend.
Despite these challenges, however, it's clear that Myrtle Beach Black Bike Week remains a hugely popular event with plenty of appeal for anyone looking for good times and great company on two wheels.
What will happen at the event?
Myrtle Beach Black Bike Week is one of the most anticipated events in South Carolina. This year, thousands of black bikers from across the country are expected to arrive for a weekend full of fun and excitement.
During this event, there will be various activities taking place such as live music performances, bike shows, parades, beach parties and club events. One of the highlights is definitely the Atlantic Beach Bikefest which takes place in nearby North Myrtle Beach.
The streets will be packed with motorcycles roaring by and vendors selling all kinds of merchandise from t-shirts to jewelry. It's truly an electrifying atmosphere that you won't want to miss!
If you're interested in showcasing your bike or just admiring others', make sure to check out some of the organized rides throughout the weekend. These group rides provide a great opportunity to meet new people who share your passion for biking.
In addition to all these exciting events, Myrtle Beach also offers its beautiful beaches and top-rated golf courses making it a perfect destination for those looking for a fun-filled getaway.
Whether you're an avid biker or simply enjoy being around them, Myrtle Beach Black Bike Week is an event worth experiencing!
Throughout the weekend, attendees can participate in a variety of events such as bike shows, concerts, parties, and group rides. These activities provide an opportunity to connect with fellow riders and celebrate their love for bikes.
One thing that makes this event so special is the sense of community it fosters among participants. For many attendees, this weekend represents a chance to escape from everyday life and enjoy the company of like-minded individuals who share their interests.
Myrtle beach black bike week is about more than just motorcycles – it's about celebrating a shared passion for biking while also building lifelong connections with other enthusiasts. Whether you're a seasoned rider or someone new to the scene, there's no better place to experience everything that this vibrant biking community has to offer!
For many black bikers, attending rallies like Myrtle Beach Black Bike Week is not just about having fun; it's also about celebrating diversity within the biking community. It's an opportunity to meet new people who share similar interests while breaking down barriers between different cultures.
The black biker community is vibrant and thriving thanks to its members' shared passion for motorcycles.
Why Myrtle Beach?
Myrtle Beach is a popular destination for many bikers, especially during the Memorial Day weekend. So, why do black bikers choose Myrtle Beach as their ultimate destination? There are several reasons why Myrtle Beach has become synonymous with Black Bike Week.
Firstly, the city offers a diverse range of events and activities that cater to all kinds of visitors. From live music shows to street festivals and beach parties – there's always something happening in Myrtle Beach! This makes it an ideal place for large-scale gatherings like Black Bike Week.
Secondly, the location itself is perfect for a bike rally. The warm weather and scenic coastal routes offer unforgettable riding experiences that attract riders from across the country.
Thirdly, over time, Myrtle Beach has built up a reputation as being one of the most accommodating cities when it comes to hosting biker rallies. Local businesses work closely with event organizers to ensure everything runs smoothly throughout the weekend.
Lastly but not least important reason; Black Bike Week began in Atlantic City back in 1980s but was moved due to local residents' opposition towards its presence. With little resistance from locals and with support from business owners who welcome extra revenue this event brings into town; Bikers chose Myrtle beach which welcomed them openly ever since then.
If you're looking for something more competitive, there are bike shows and contests where participants can showcase their customized bikes or battle it out on the race track.
There will also be plenty of food vendors offering local cuisine, so come hungry! You'll find everything from seafood to BBQ ribs and burgers.
The event is family-friendly too! Kids can enjoy carnival rides and games while adults relax at beach parties or take part in group rides through scenic routes around Myrtle Beach.
In summary, Myrtle Beach Black Bike Week offers something for everyone. Whether you're into music, food or adrenaline-pumping activities – this event has got you covered. Get ready for an unforgettable weekend full of fun and excitement!
What is the goal of the event?
The goal of Myrtle Beach Black Bike Week is to bring together the black biker community for a weekend of fun, camaraderie, and celebration. This annual event has been taking place in Myrtle Beach for over 35 years and serves as an opportunity for bikers from all over the country to come together and enjoy their shared passion.
For many attendees, this event represents more than just a weekend getaway. It's a chance to connect with likeminded individuals and forge lasting friendships. The atmosphere is electric, with hundreds of bikes roaring through the streets and live music filling the air.
Another important aspect of this event is its economic impact on the local community. With thousands of visitors descending upon Myrtle Beach each year for Black Bike Week, businesses in the area experience a significant boost in revenue. Hotels fill up quickly, restaurants are packed with hungry patrons, and vendors selling everything from t-shirts to motorcycle gear do brisk business.
Myrtle Beach Black Bike Week is about celebrating black biker culture while also bringing people together in support of small businesses and local economies.
How did it get started?
The history of Myrtle Beach Black Bike Week dates back to the 1940s when African American tourists were not welcome at many establishments in the area. However, this did not stop them from coming to enjoy the beautiful beaches and scenery.
Over time, black motorcycle riders began to congregate on Memorial Day weekend, forming an informal gathering that eventually turned into a full-fledged event. Today, Myrtle Beach Black Bike Week is one of the largest gatherings of its kind in the country.
Myrtle Beach Black Bike Week is a celebration of African American culture and brotherhood among motorcyclists. With exciting events planned throughout the weekend and thousands of visitors expected to attend, it's sure to be an unforgettable experience for all involved.
Comments
comments